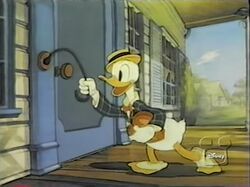 "Macho Duck" is the fifth track on the 1979 album Mickey Mouse Disco.
Lyrics
[Speech] Doorman: Oh, good evening, Mr. Duck!
Donald: Hello sport!
Doorman: May I get the door for you?
Donald: Thank you very much. Let's boogie!
He's got style, he's got flare
Got two left feet but he doesn't care
Dressed in blue, fit to form
Ladies love to touch his uniform
Mess with him and your outta luck
He's a macho duck
Macho macho duck
Oh he's a manly sensation
Macho macho duck
He's a macho macho duck
Can he move, well guess what?
Watch his wiggle waddle strut
But feathers fly when he gets riled
It's like a pillow fight of white
Macho macho duck
The slickest bird in the nation
Macho macho duck
He's a macho macho duck
Ad blocker interference detected!
Wikia is a free-to-use site that makes money from advertising. We have a modified experience for viewers using ad blockers

Wikia is not accessible if you've made further modifications. Remove the custom ad blocker rule(s) and the page will load as expected.