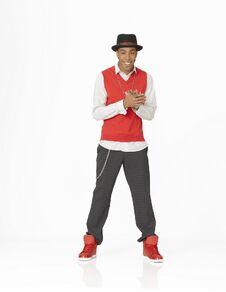 Luke Williams
 is the main, later secondary antagonist in 
Camp Rock 2: The Final Jam
. He was advertised as the main antagonist, but this was the plot to be outranked by the
true main villain
.
Story
Camp Rock 2: The Final Jam
He is introduced as a proud member of rival camp, Camp Star. He and Mitchie quickly become enemies after getting off on the wrong foot and Luke is shown to be extremely loyal to Axel Turner, the owner of Camp Star. He has to share the stage with Tess Tyler after she switches camps but that does not go to well when they're constantly fighting for the spotlight due to clashing personalities. In the end, he celebrates his victory with Camp Star and is one of few who refuse to switch to Camp Rock at the end of the summer.
Personality
He is a talented singer and dancer. He thinks very highly of himself as shown when he says "I know right" when people complement him and his talents.
Trivia
Mitchie refers to him as Luke "I'm Giving You The Fire" Williams.
He sings the songs: "Fire", "Tear It Down", and a bonus song "Walkin' In My Shoes". This song is included on the soundtrack and as a additional scene in the extended edition of the DVD.
Though Luke basically drives the plot of the film, Axel is the true main villain because he had bigger plans than Luke.