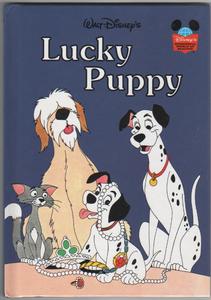 Lucky Puppy is a 1978 Disney's Wonderful World of Reading storybook featuring the characters from One Hundred and One Dalmatians. In this book, Lucky Puppy and his dad, Pongo, are instrumental characters in recovering the queen's stolen jewels.
Note
Like in the; Wonderful World Of Reading's telling of; "101 Dalmatians", Sgt. Tibb's fur is also Grey here, than it's Normal Tabb Brown.
This Story is an abridged telling of; "The Case Of The Light-Fingered Fiddler", from the first Volume of; Wonderful World Of Disney Books?
Ad blocker interference detected!
Wikia is a free-to-use site that makes money from advertising. We have a modified experience for viewers using ad blockers

Wikia is not accessible if you've made further modifications. Remove the custom ad blocker rule(s) and the page will load as expected.