"Lucky Duck. A tub toy tale."

Lucky Duck is a Disney Junior original special, that premiered on June 20, 2014. It was created for Disney Junior by Corus Entertainment's Nelvana.
Synopsis
Lucky, a small rubber duck (voiced by Christian Borle), prepares to leave the toy factory where he was born to be shipped to the store when, because of Code S (a faulty whistle), it is immediately trashed. By dint of pugnacity, he still manages to return a box of toys ready to board a boat. New twist of fate: Lucky inadvertently pass overboard! Then he will have to face all the dangers always pursuing the same goal: to find the perfect home.
Voice Cast
Tom Cavanagh as Snap
Megan Hilty as Flo
Milton Barnes as Shark
Gage Munroe as Danny
Dan Chameroy as Captain Chase
Linda Ballantyne as News Reporter
Rob Tinkler as Wingo
Richard Binsley as Bob Bubbly
Joe Motiki and Denise Oliver as the voice of the dolphins
Songs
Availability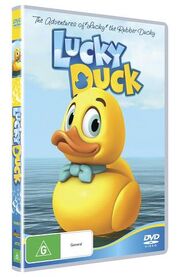 In Australia & New Zealand (R4 PAL), the special was released on DVD by the non-Disney distributor Jigsaw Entertainment through a special agreement with
Disney
. It is unknown when the special will be released (either Blu-Ray or DVD) by Disney in N.A.
External Links