Ad blocker interference detected!
Wikia is a free-to-use site that makes money from advertising. We have a modified experience for viewers using ad blockers

Wikia is not accessible if you've made further modifications. Remove the custom ad blocker rule(s) and the page will load as expected.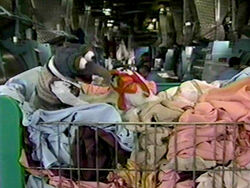 "Love in a Laundromat" is sung by Gonzo and Camilla in the 1990 special The Muppets at Walt Disney World.
Lyrics
Love in a Laundromat
Who would have thought of that

Tumblin' together in some fancy machine
I can't deny it, but
Love at first cycle
You set me spinnin', if ya know what I mean

Love in a laundry
Once more, that feeling
Soon we'll be feeling
Feeling like new

I can't deny it, but
Love at first cycle
Tossing and turning around here with you

Tossing and turning around here with you