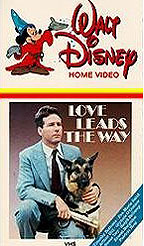 Love Leads the Way: A True Story is a 1984 television film that originally aired on the Disney Channel on October 7, 1984. It was later reaired on The Disney Sunday Movie on ABC on May 4, 1986 as Love Leads the Way. The telefilm was directed by Delbert Mann and written by Henry Denker and Jimmy Hawkins.
Synopsis
A recently blinded man becomes one of the first American users of a seeing eye dog and must fight to remove the legal barriers impeding its use.
Cast
Timothy Bottoms ... Morris Frank
Susan Dey ... Beth
Glynnis O'Connor ... Lois
Richard Speight Jr. ... Jimmy
Arthur Hill ... Mr. Frank
Patricia Neal ... Mrs. Frank
Eva Marie Saint ... Mrs. Eustes
Bill Ewin ... Emmett (the postman)
Ralph Bellamy ... Sen. Christi
Ernest Borgnine ... Sen. Brighton
Pilot ... Buddie - the dog
Gallery
Ad blocker interference detected!
Wikia is a free-to-use site that makes money from advertising. We have a modified experience for viewers using ad blockers

Wikia is not accessible if you've made further modifications. Remove the custom ad blocker rule(s) and the page will load as expected.