Ad blocker interference detected!
Wikia is a free-to-use site that makes money from advertising. We have a modified experience for viewers using ad blockers

Wikia is not accessible if you've made further modifications. Remove the custom ad blocker rule(s) and the page will load as expected.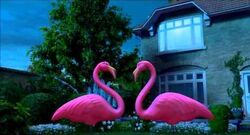 "
Love Builds a Garden
" is a song with the lyrics written by Bernie Taupin and music written by and performed by
Elton John
. It is featured in the
Touchstone Pictures
film
Gnomeo & Juliet
.
Lyrics
You hear it every day
Once upon a time they say
Once upon a time in this place
I looked and saw on your face
A smile that spoke to me
In oh so many ways
The Sunday morning bells
Rang out that all was well
Sunshine across the yard
We'd rest when we worked hard
We take a little time off
To appreciate the day
And love builds a garden
Grew it from the ground up
Each one of us knowing
Every inch of it was us
We pulled it all together
Hoping and believing
That love built this garden
For the two of us to dream in
[instrumental]
We'd get a little rain
Then the sun came out again
But a frost it's hard to fight
Once it takes hold flowers die
There's only so much you can do
To keep some things alive
And love builds a garden
Grew it from the ground up
Each one of us knowing
Every inch of it was us
We pulled it all together
Hoping and believing
That love built this garden
For the two of us to dream in
Sad to say, it's true
Without a lover who
Cares as much
Well I guess, I guess it goes to prove
[instrumental]
That love built a garden
Growed it from the ground up
Each one of you knowing
Every inch of it is trust
Pulled it all together
Hoping and believing
That love builds a garden
For the two of you to dream in