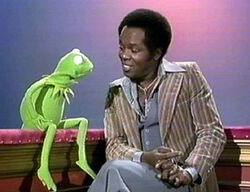 Lou Rawls (December 1, 1933 – January 6, 2006) was an American soul, jazz, and blues singer. He was known for his smooth vocal style. His Disney roles includes guest appearances in episode 215 of The Muppet Show and The Proud Family episode; "The Party", where he appeared in Penny's dream sequence, singing "You'll Never Find Another Love Like Mine". He also performed the rendition version of "The Bare Necessities" that was used as the theme song for Jungle Cubs.
Gallery
Ad blocker interference detected!
Wikia is a free-to-use site that makes money from advertising. We have a modified experience for viewers using ad blockers

Wikia is not accessible if you've made further modifications. Remove the custom ad blocker rule(s) and the page will load as expected.