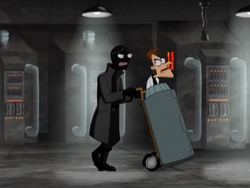 Lost in Danville is an episode of Phineas and Ferb.
Synopsis
Phineas and Ferb find a capsule that falls from the sky that they want to open. Meanwhile, Doofenshmirtz is kidnapped by a guy named Professor Mystery whose nemesis is also Peter the Panda.
Full Summary
The episode starts with Phineas and Ferb under a tree in their backyard, and they are both talking about the mystery of toothpaste. Candace is listening to the newest Paisley Sideburn Brothers album. After Phineas says "How do they get the red and blue toothpaste to swirl?", a mysterious object falls from the sky. When Phineas and Ferb wonder why the capsule just won't open, Ferb says "And of course, 'where's Perry'"?
The next scene takes place in Perry's lair.
Ad blocker interference detected!
Wikia is a free-to-use site that makes money from advertising. We have a modified experience for viewers using ad blockers

Wikia is not accessible if you've made further modifications. Remove the custom ad blocker rule(s) and the page will load as expected.