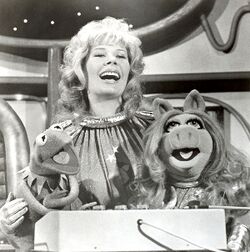 Loretta Swit (born November 4, 1937) is an American stage and television actress known for her character roles, such as as Margaret Houlihan from the TV series M*A*S*H.
Her only role in a Disney-related production was a guest appearance in episode 502 of The Muppet Show, where she filled in for Miss Piggy after Kermit fired her for planting rumors about them in a gossip magazine.
Gallery
Ad blocker interference detected!
Wikia is a free-to-use site that makes money from advertising. We have a modified experience for viewers using ad blockers

Wikia is not accessible if you've made further modifications. Remove the custom ad blocker rule(s) and the page will load as expected.