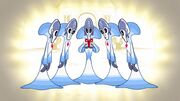 Lords of Illumination
are a group of characters in
Wander Over Yonder
.
Background
They first appear in The Box posing as different characters to test Wander not to open the box on the arrival to Glen's House (Which is their house). Sylvia forces them to put something in the box and so they give in and put in a piece of string, a penny, a hard candy and a "Number 1 Grandpa" keychain. After Wander and Sylvia leave, one of them tells one Lord that he didn't know he was a grandpa. He respnds that he never asked him about his personal life.
They were seen again in The Gift, being given a gift as one of them asks "So, what's in the box"?
v - e - d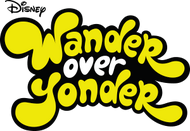 Organizations/Groups
Lord Hater's Army • Insurgent Generals • Wander and Sylvia • Bounty Hunters • Lord Dominator's Army • Galactic Villain Leaderboard
Locations
Lord Hater's Spaceship • Binglebopolopolis • Doomstone • Baaaaa-halla • Phunulon • Ballzeria • Buster • Doom Arena • Planet Ziziks • Flendar • Lord Dominatior's Spaceship • Arachnomorph Homeworld
Ad blocker interference detected!
Wikia is a free-to-use site that makes money from advertising. We have a modified experience for viewers using ad blockers

Wikia is not accessible if you've made further modifications. Remove the custom ad blocker rule(s) and the page will load as expected.