Ad blocker interference detected!
Wikia is a free-to-use site that makes money from advertising. We have a modified experience for viewers using ad blockers

Wikia is not accessible if you've made further modifications. Remove the custom ad blocker rule(s) and the page will load as expected.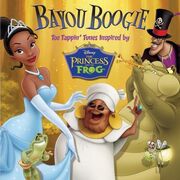 "Live To See You Smile" is track 8 on the CD Bayou Boogie. It is written by Scott Krippayne, Bryan Todd, and performed by Michael-Leon Wooley.
lyrics
I dig rhythm and melody
And I'm a sucker for a big parade
Like lots a sugar in my tea
And turnin' lemons into lemonade So call me crazy but who cares?
It's just a part of my colorful style
And I love, love, love to make you laugh
And I live to see you smile Down in the delta, we like our jazz
With a little bit of zydeco
Cook up my meals with pizazz
And let the spices simmer nice and slow Nice to meet ya, glad you're here
And we're hopin' that you stay a while
'Cause we love, love, love to make you laugh
And live to see you smile This little band from Dixieland
Can chase your blues away
The fireflies and moonlit
Nights are always on display
Here I go So what's your hurry? Stick around
I got a solo I can play for you
Grab a tree stump, settle down
Can always use another in our crew Enjoy the music and company
Of a talented and witty reptile
(That's me) Who love, love, loves to make you laugh
And lives to see you smile
I love, love, love to make you laugh
And live to see you smile