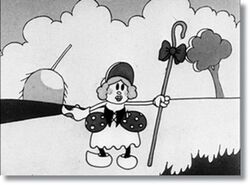 Little Bo Peep
is the nursery rhyme shepherdess who "lost her sheep and didn't know where to find them." She appeared in two of Disney's
Silly Symphony
shorts,
Mother Goose Melodies
and
Old King Cole
, and was impersonated by the
Big Bad Wolf
in
Three Little Wolves
and Katherine Hepburn in
Mother Goose Goes Hollywood
.
Appearances
She appeared also in Once Upon a Time, portrayed by Robin Weigert. This version was malevolent. She is in fact a creditor, who with her minions, taking away some money to the villagers, at the risk of taking them their cattle. She is also a witch who use her shepherd's crook for to generates earthquakes and marks every people who she meets to chase away them then in their hiding place. She is so confronted to a young David (the intended Prince Charming) and her mother Ruth. Witness of the altercation, Anna who has just left Arendelle to insvetigate on the disappearance of her parents, training David to become a warrior for to fight against the tyran. David is originally discouraged. However, when Anna is kidnapped by Bo Peep, he had a sword combat with this last and neutralize her. After the curse generate by the Evil Queen, Bo Peep become a butcher and was confronted by David Nolan and Captain Hook asking her where is Anna actually because Elsa hold Emma in hostage and menace to freeze Storybrooke under ultimatum to find her sister.
Gallery
See also
Ad blocker interference detected!
Wikia is a free-to-use site that makes money from advertising. We have a modified experience for viewers using ad blockers

Wikia is not accessible if you've made further modifications. Remove the custom ad blocker rule(s) and the page will load as expected.