List of minor characters in Hercules
Comments

0
18,984pages on
this wiki
Achilles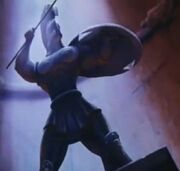 Former student of Philoctetes who was well known as one of the greatest heroes ever due to his nearly invulnerable body, but after an incident where he was defeated by an attack to his right heel (which is the only part of his body that isn't invulnerable) he became the laughing stock of Greece and became an old washout. He temporarily gained his powers back in a deal with Hades but lost it again soon after.
Agamemnon
The drill sergeant for Spar O.T.C. A strict training camp in Sparta where soldiers and royalty come to train.
Ajax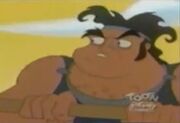 A bulky barbarian student at Prometheus Academy who has terrible hygiene and bad manners and can only speak in grunts. As a joke despite this he is also very popular with the ladies.
Bob
Bob is the narrator of the Hercules film and animated series. Unlike the Muses, he tries to tell Hercules' story in a more serious and orderly manner but he is usually always interrupted and replaced by the Muses. In Hercules and the Return of Typhon it is revealed that he is actually a disembodied voice and he is married and has two kids named Tiffany and Chad who are also invisible.
Vick and Evelyn
Cassandra's parents. Unlike their daughter they seem very cheery and friendly, but they apparently don't take their daughter very seriously, especially when she mentioned that she had sold her soul to Hades. But unlike Vick who thinks that a monster invites him to eat rather than being eaten, Evelyn sees this and gets in her husband's face when she's serious.
Charon
The undead ferryman of the Underworld who carries mortals and Hades across the River Styx. He is a very cautious person who tries to avoid trouble. He is also a major sports fan.
A centaur known as a legendary hero, trainer of heroes and author who is an old friend and rival of Philoctetes.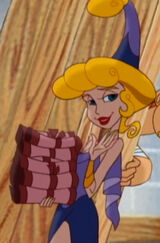 This friendly blond beauty is the most popular girl at Prometheus Academy and Adonis' girlfriend. She is close friends with Hercules.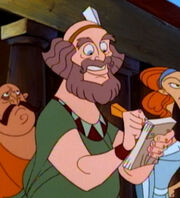 He is a reporter for the Greekly World News who appears throughout the show, occasionally writing reports about major events that Hercules is involved in.
He embelished the rivalry between Prometheus Academy and another school into the myth of war.
Icarus' Babies
A group of urns and jars that Icarus brought to life with some unintentional help from Aphrodite. Icarus refers to them as his and Cassandra's babies, something that horrifies and disgusts her.
Jason
A heroic man of the sea who was trained by Philoctetes. Along with his Argonauts he has been searching for the legendary Golden Fleece which is said to hold great power.
Melampus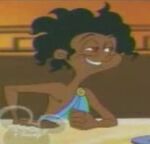 A transfer student from Trojan Academy and Icarus' friend and rival for Cassandra's affections. He is a Mykloid fan-boy of the comic-scroll superhero Myklos. He looks like Icarus but more healthier looking with well cut hair and normal looking eyes.
Oracles of Delphi
Three powerful oracles who know all that has and will happen. They are also the founders of the Oracle Friends Network, which Cassandra became a part of after she graduated.
Penelope
A mule belonging to Amphytryon and Alcmene who usually pulls the hay wagon. In the film she sprained her ankle and Hercules had to replace her by helping deliver the hay wagon to the market. She appears again near the end of the film welcoming back Hercules after he chooses a mortal life on earth.
Prometheus Academy staff
Ms. Cassiopeia, Poetry Teacher (voiced by Alice Ghostley)
Phys Oedipus, teacher of Physical Education (voiced by Richard Simmons)
Miss Thespius, Drama Teacher (voiced by Kathy Najimy)
Mr. Daedalus, (a.k.a. Dad-alus) ProAc Shop Class Instructor, father of Icarus, and greatest inventor of all antiquity. (voiced by David Hyde Pierce)
Mr. Herodotus, History teacher (voiced by Jess Harnell & Paul Reubens)
Mr. Pygmalion, Art teacher (voiced by Calvert DeForest)
Mr. Ptolemy, Astronomy Instructor (voiced by George Takei)
Mr. Aesop, Storytime Instructor for ProAc, Jr (Prometheus Junior Academy) (voiced by Bob Keeshan)
Miss Euphrosyne, Home Greconomics Teacher (voiced by Melissa Manchester)
Mr. Linus, Music Teacher (voiced by Jason Marsden)
List of minor villains
Agent Epsilon
A servant of King Midas who posed as an agent from Athens Intelligence in order to trick Hercules.
Bellerophon
A selfish and pompous hero who likes to go heroing on the weekends. After Pegasus and Hercules have a fight Bellerophon and Pegasus team up to fight the Chimera thus earning him fame and adoration, but when Pegasus wants to return to Hercules Bellerophon uses a magic necklace to control Pegasus and make him his slave.
Briares, The Hundred Handed One
A powerful giant said to have a hundred hands. Despite being called the Hundred Handed One, he only has two visible arms. The reason he is called this is because he can sprout over a hundred hands from any terrain. Depending on the terrain that the hand is summoned it will take on the element of the terrain such as if it is summoned in a body of water, a rocky terrain or on a plant it will take on the attributes and physical appearance of the terrain.
Circe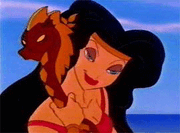 A gorgeous enchantress who has the power to make men fall in love with her or turn them into animals if she's annoyed. She arrives and decides to make Icarus her new boyfriend, but after spending 5 minutes with him turns him into a platypus. By the end, thanks to Helen and Cassandra taking her staff and undoing her enchantments, she turns her way around and becomes good.
Egyptian Gods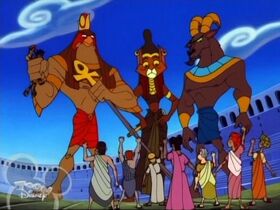 The Gods of Ancient Egypt who came to Rome when they were seeking Gods. However they were not pleased with Rome's appearance and they decided to destroy the city so they could build pyramids in its place.
Members
Electra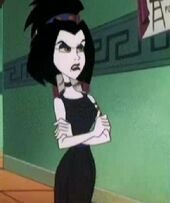 A goth girl from Prometheus Academy with depression and anger issues who can summon a type of Furies when fully enraged.
Hercules temporarily changed his look in order to go out with her. He was successful until he showed her his real personality while fighting her furies.
Furies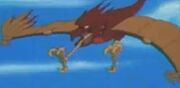 Creatures created by Electra's anger. Unlike the more reptilian Furies of the Underworld these Furies resemble large birds with mechanical wings and spiked collars.
The Gorgon, Griffin and Minotaur
Three monsters who were sent by Hades to kill Hercules, however all three were defeated in less than a second.
King Midas
A greedy king whose touch can turn anything to gold. He realizes the error of his ways after he turns his daughter Marigold into gold.
Paris
Adonis' Trojan Academy counterpart and arrogant Trojan prince.
Salmoneus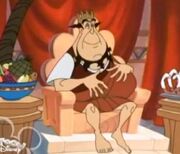 The selfish and cruel king of Thessaly who posed as Zeus during a festival in order to fool his subjects into worshiping him no matter how more cruel his actions became, luckily he was punished by Zeus for his blasphemy and banished to the Grove of Despair.
Thieving Harpy
A small and annoying Harpy who steals whatever she can find. She appeared in the episode Hercules and the Epic Adventure wherein Hercules lost his poem for creative writing class and had to get it back or else fail, but along his journey to reclaim it many obstacles get in his path, with most notably being this Harpy who kept claiming the poem was hers and that she wrote it.
Zuul
A cyclops who sold his soul to Hades and is in service to him. Despite his relentless behavior by day he is a good and kind friend to Medusa.