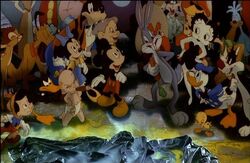 All the Toon characters on this list have either appeared physically or in another form in Who Framed Roger Rabbit. These characters had either appeared in animated features or cartoon shorts made by various studios, presented here.
Note: This list does not contain the characters mentioned in the film or the character cameos from the Roger Rabbit shorts, Tummy Trouble, Roller Coaster Rabbit and Trail Mix-Up.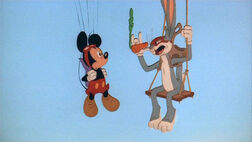 Meathead
Benny Burro
A character resembling Barney Bear
A purple version of George
The octopus from Half-Pint Pygmy*
The lion from The Temperamental Lion
Deleted/Unused Characters
Many additional characters were planned, or at least considered, for inclusion in the film but ultimately omitted due to legal issues and/or production limitations. Others managed to make it into the final film, but were cut out or replaced later on during production and development.
Walt Disney
Warner Bros.
MGM
Paramount Pictures
20th Century Fox
Columbia Pictures
Universal Studios
Special Edition DVD Cameos
Numerous characters that did not make cameos in the film made a few on the menus of the Special Edition DVD.
Note: Most can be seen in the second disc.
(*) Denotes anachronisms; these characters (or, in the cases of characters such as Tinker Bell and Marvin the Martian, the animated versions of them that appear in the film) were created after 1947. But as screenplay writer Peter S. Seaman said, "The aim was entertainment, not animation history." It also has been argued that the characters may have "existed" in the Toon world before being "discovered" and featured in real productions.
Trivia
Ad blocker interference detected!
Wikia is a free-to-use site that makes money from advertising. We have a modified experience for viewers using ad blockers

Wikia is not accessible if you've made further modifications. Remove the custom ad blocker rule(s) and the page will load as expected.