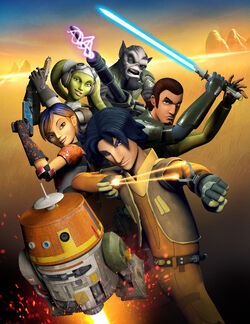 Characters that have appeared in Star Wars Rebels.
Rebels
Imperials
Palpatine - (Sam Witwer) The Dark Lord of the Sith, and Emperor of the Galactic Empire.
Darth Vader - (James Earl Jones) A former Jedi who was once known as Anakin Skywalker until he fell to the dark side of the force and became Palpatine's new apprentice.
Agent Kallus - (David Oyelowo) A high ranking agent of the Imperial Security Bureau who serves under the Inquisitor.
Inquisitors

The Grand Inquisitor - (Jason Isaacs) The main antagonist of the first season. The Inquisitor is an unnamed Pau'an who wields a double-bladed lightsaber and is tasked by Darth Vader to hunt down the remaining Jedi left in the galaxy.
Fifth Brother - (Philip Anthony-Rodriguez) The main antagonist of season two, sent by Darth Vader under Palpatine's orders to hunt the rebels down after Ahsoka is discovered among them.
Seventh Sister - (Sarah Michelle Gellar) A female Mirialan Inquisitor, who is The Fifth Brother's partner.

Cumberlayne Aresko - (David Shaughnessy) An Imperial Commander, who served as a high-ranking official, alongside Taskmaster Myles Grint. Cumberlayne never ceased to punish the city's residents for acts of "treason". One such incident of this was when Cumberlayne ordered the arrest of a random citizen, who spoke freely about the Empire's oppression on Lothal.
Myles Grint - (David Shaughnessy) An Imperial Officer, who spent much of his time on Lothal alongside his commander, Cumberlayne Aresko. Together, the two helped bring oppression to the planet's people, often charging Capital City's citizens for minor incidents.
Stormtroopers - Soldiers who work as the shock troops for the Imperial military, under the leadership of the evil Sith Lord and Emperor Palpatine and his commanders, most notably Darth Vader and Grand Moff Tarkin.
TIE Pilots - A Group of starfighter pilots who served piloting the various TIE series starfighters in the Imperial Navy.
Maketh Tua - (Kath Soucie) The Imperial Minister of Lothal.
Wilhuff Tarkin - (Stephen Stanton) The ruthless high ranking Governor of the Outer Rim.
Grand Admiral Thrawn - (Lars Mikkelson) A ruthless and cunning Chiss tactician for the Galactic Empire. He was revealed to appear in season 3 of Star Wars Rebels as one of the primary antagonists.
Arihnda Pryce- The Planetary Governor of Lothal who will appear in Season three.
Jedi
Droids
Other Characters