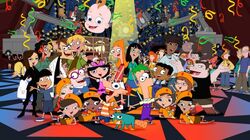 Phineas and Ferb's main characters live in a blended family, a premise the creators considered underused in children's programming and which reflected Marsh's own upbringing. Marsh considers explaining the family background "not important to the kids' lives. They are a great blended family and that's all we need to know." The choice of a platypus as the boys' pet was similarly inspired by media underuse, as well as to exploit its striking appearance. The platypus also gives them freedom to "make stuff up" since "no one knows very much about [them]." Marsh called the characters "cool, edgy and clever without [...] being mean-spirited." According to Povenmire, their animation director, Rob Hughes, agreed: "in all the other shows every character is either stupid or a jerk, but there are no stupid characters or jerks in this one."
List of Characters
Major and Secondary Characters
Secondary Characters
Recurring Characters
Minor Characters
Balthazar Horowitz (Django Marsh) is a character that is seen in several episodes on the show, mostly as a cameo character. He saw Perry as a secret agent in "I Was a Middle Aged Robot". He also saw Candance being chased by animals in the episode "Interview with a Platypus". In "Backyard Hodge Podge", his first name was revealed for the first time.
Monty Monogram (Seth Green) is Vanessa's new love interest and son to Major Monogram. He likes having coffee, as seen in "Sipping with the Enemy", and he and Vanessa go out to the 50's Doo-Wop together in "My Sweet Ride".
Meap (Voiced by Lorenzo Lamas, Jeff Foxworthy with a southern accent and Jeff "Swampy" Marsh with British Mustache in "Meapless in Seattle") is an intergalactic security agent, who travels around the universe helping any planet that's in danger. He has the ability to shoot a ray that can disintigrates clothes (referring to the Bangaroo guards he shot) and destroys robots such as the one's on Mitch's ship. His nemesis is the evil alian Mitch. At one point, Meap crashed on the planet Earth, and faced the trials of dealing with humans and new customs. For the whole episode, he only makes a "meap" (hence the name "Meap") but at the end when he defeats Mitch, he takes off Mitch's mustache, and puts it on, causing him to speak with a much lower voice, since it is an "Intergalactic Communicator." ("The Chronicles of Meap ") He makes a cameo appearance in 2009 Christmas special. In "Meapless in Seattle," he took Phineas, Candace, Ferb, and Isabella to his planet to save his army from Mitch's evil, cute plan. When Meap failed to do so, Isabella saved the day with her own cuteness.
Albert Du Bois: (Diedrich Bader) He is Irving's Brother. He has appeared in "Not Phineas and Ferb", "The Doof Side of the Moon", and "Nerds of a Feather". Albert is also known as "The Truth Detector". Albert has tan hair and wears a pair of black horn-rimmed glasses. He also has an apparent crush on Candace Flynn. What he didn't realize though was he did not figure that the Eiffel Tower in the backyard was a hologram and that Buford and Baljeet were Phineas and Ferb. Also in "The Doof Side of the Moon", Albert teams up with Candace Flynn.
Farmer and wife: The wife always tells her husband "I can't believe you (blank) without getting a (blank)" and then it falls from the sky and sometimes hits her. For example, "I can't believe you bought a bunny farm but forgot to buy any bunnies!" A pack of rabbits then falls from the sky and hits her. Once the wife said the phrase to a Scottish mini-golf owner, and not her husband (to which the mini-golf owner replied "You'd be surprised at what falls out of the sky in Danville"). Why she said this to him is unknown.
Mitch: He is Meap's nemesis, voiced by David Mitchell. He is much like Dr. Doofenshmirtz, except he seems to be more of an evil villain than Doofenshmirtz. Mitch kidnaps aliens from their home planets and imprisons them in his ship. Isabella states that he is a poacher. Mitch appeared in "The Chronicles of Meap". He only speaks because he has a Universal Mustache Translator. Without it he can only say one word, "Meep" and has a slightly different appearance relative to Meap's. He is known for many names through out the galaxy but his friends call him "Big Mitch." Mitch reappeared in "Meapless in Seattle" to try to be the cutest thing ever, but was foiled by Isabella's own cuteness.
Peter the Panda: Replaced Perry as Dr. Doofenshmirtz's nemisis in "It's About Time!". He does not "speak" in the whole episode. He may be in O.W.C.A., as he is in the Seattle division. He reappears in "Meapless in Seattle" to help Perry get to Mitch, and "Sidetracked" as a special guest to arrest Professor Bannister. He also cameos in the film, helping to get rid of the Norm Bots.
Coltrane (Corbin Bleu) is a friend of Jeremy Johnson and the bassist in his band, Jeremy and the Incidentals. He has a crush on Stacy Hirano and he's an instructor at Baljeet's summer rock camp. He was later seen watching Jeremy's TV commercial with him; he then changed the channel to see if Jeremy's commercial was on on another channel, only to see Candace on Phineas and Ferb's quiz show on the episode "Let's Take A Quiz". It is also seen that in "The Best Lazy Day Ever" and "The Baljeatles" he and Stacy are together, which is slightly expanded in "Happy New Year!", as they are seen dancing with each other.
Mrs. Doofenshmirtz (Cloris Leachman) is the mother of Heinz and Roger. She likes to watch her children play kickball and along with her husband is the cause of much of Heinz's misery and mental anguish. She refers to Roger being her favorite child and often ignores Heinz.
Johnson family poodle: The black poodle is a pet of Suzy and Jeremy Johnson, is seen in "One Good Scare Ought to Do It!" and "Interview with a Platypus". It seems that Suzy has trained the poodle to be aggressive to Candace Flynn, which was shown when Candace and Jeremy where playing video games at the Johnson's house in the episode, "Interview With a Platypus" .
Bob Webber (John Larroquette) is a lifeguard in "The Lake Nose Monster". He assigned Candace and Jeremy to save people, but none needed to be rescued. He also appeared in "Candace's Big Day" to marry the boy's aunt, Tiana Weber. In "The Lake Nose Monster" whenever someone says okay, you could hear his voice ecoing okay. He also appears in "Ferb TV" in the Dancing with the Bears segment.
Johnny (voiced by Logan Miller) is a goth teenager that likes Vanessa and she has said that he is her boyfriend. (As quoted by Dr. Heinz Doofenshmirtz: "I was looking through your address book, and I saw hearts next to his name. I think I know what that means!....") He has appeared in "Dude, We're Getting the Band Back Together" and "Brain Drain". He broke up with Vanessa in "Minor Monogram", though reappeared in "Doof 101".
Main article: Organization Without a Cool Acronym
O.W.C.A. stands for "Organization Without a Cool Acronym" whose sole purpose is to stop any villains from running amuck in the Tri State Area. So far, the only two commanders that are known is Major Francis Monogram (Perry's commanding officer) who is the Head Of O.W.C.A and he has a Assistant whose name is Carl Karl and Wanda Acronym (Pinky's commanding officer). The organization consist mainly of animal agent (with an exception of a few). Monogram himself isn't sure why the organization consist of mostly animals. Currently, there are 4 known Agent P's in the series. They are Agent Perry the Platypus, Phineas & Ferb's pet; Agent Pinky the Chihuahua, Isabella's pet; Agent Peter the Panda, Perry's temporary replacement; and Agent Planty the Potted Plant, the organization's first plant agent from "No More Bunny Business". Pronounced "AHH-WOO-KA", Dr. Heinz Doofenshmirtz quotes, in the episode, "Summer Belongs to You!", "Wow, that really isn't a cool acronym...".
Marty the Rabbit Boy (and his musical blender): He is a rabbit boy with a deep voice that plays his musical blender. He and his blender look like Phineas and Ferb behind the curtain and Candace has made the error of mistaking them as her brothers twice. He has been featured in two episodes, "Flop Starz" and "Oh, There You Are, Perry". In Flop Starz he supposedly becomes the Next American Pop Teen Idol Star. Candace is convinced she could beat him in the competition, and regrets missing her chance to sing with her brothers on stage, and says that she "Should've taken Blender Lessons!".
The Regurgitator is a villain that was set at high priority at the O.W.C.A. because he was supposedly more evil than Dr. Doofenshmirtz, causing Perry to be temporarily transferred to the Quad-State Area. However, Perry is able to beat him just as easliy as Heinz. He only appears in "Oh, There You Are, Perry" and "Rollercoaster: The Musical!".
Wanda Acronym (Jane Leeves): She is presumably one of the leaders of The O.W.C.A. She is the head of the Division Pinky is in, acting as Pinky's commanding officer in the same fashion as Major Monogram to Perry.
Mindy (Ashley Tisdale/Alyson Stoner) is a teenager who has a crush on Jeremy. She wears a stripy blue and green shirt and has blonde hair. Mindy was seen in Jerk De Soleil when she asked Jeremy to sit with her, only to be replied with, "Sorry, but I promised Candace." from Jeremy. She was also seen in "Hail Doofania!", when she sees Candace with Vanessa's clothes on and asks, "Candace, when did you go goth?".
L.O.V.E.M.U.F.F.I.N.: This is an acronym for League Of Villainous Evildoers Maniacally United For Frightening Investments in Naughtiness. Dr. Doofenshmirtz is a part of this group of evil scientists. They are seen in "Nerdy Dancin'", "Robot Rodeo", and "Phineas and Ferb Save Summer with single members in some other episodes, such as "Bullseye!" and "Norm Unleashed".
The Talking Zebra As said in his name he is a talking Zebra, he appears briefly and usually refers to Candace as "Kevin". He has appeared in "The Ballad of Badbeard", when Candace followed Perry onto a pier while he was on a mission. When she said how weird it all was, The Talking Zebra appeared next to her on a rocking chair saying that it gets weirder. When Candace found that the blue moss caused illusions and not the brown moss which she touched, she didn't know if what she saw was real. She then touched the blue moss by accident, and the Talking Zebra appeared next to here with a fake beard and completmented her on her fake beard(which everyone was wearing since Phineas and Ferb found a huge treasure chest full of them). He appeared again in "Phineas and Ferb Get Busted!/At Last!" at the end when Candace's parent turn out to be puppets controlled by a giant Baljeet, who then turns out to be a puppet controlled by the talking Zebra who says "I'm just as confused as you Kevin", Candace even said in that episode right after that she sees him all the time. he makes a cameo in the film in the song Brand New Reality.
The Maid (sometimes called Nancy) is Doofenshmirtz's maid. Even though she is an unseen character, Dr. D is often mad at her because she sometimes inadvertently helps Perry defeat Doofenshmirtz. For Example: Doofenshmirtz set a near fatal trap at the front door of his lair after just telling Perry to enter through the front entrance. But Nancy left the back door open which caused Perry to untentionally escape the trap. Dr. D repeatedly threatened to fire her, yet he still hasn't fired her just yet, as he still gives her second chances.
Professor Poofenplotz (voiced by Amanda Plummer) only appears in "Isabella and the Temple of Sap,", "Rollercoaster: The Musical!", "Excaliferb", and "Bee Story". Professor Poofenplotz is Pinky the Chihuahua's nemesis. Poofenplotz believes that she can't take over the world unless she looks beautiful. Her favorite line of hairspray is Stiff Beauty. Unfortunately for her, Stiff Beauty was discontinued and the only supply left was at the old abandoned Old Abandoned Amusement Park, before the sap ride fell down from Holly breaking the ride by punching it, causing it to fall when Poofenplotz screamed. Her catchphrase, simillar to that of Dr. Doofenshmirtz, is "Curse you, Pinky the Chihuahua!" She also fails trying to get to a factory where she can grow bigger and become Queen Bee in "Bee Story'".
Gaston Le Mode (French Stewart): He is the world's most famous clothing designer. In the episode "Run Away Runway" (his only appearance), he is sending his designs on the ramp in Danville's mall. He is looking for someone to wear an extremely high-collared ballerina dress he had designed, but can't find anyone who is capable of wearing it besides Candace - because of her long neck.Then, Phineas and Ferb come up with their own summer clothing and present it to Gaston who decides to make Phineas and Ferb's summer clothing the new mode throughout the world - in Paris, London, Moscow, etc. He tells Candace and the other models to put it on but Candace refuses to wear her brothers' designed outfit. But later she finds out she has missed her chance of being famous - now everyone is following the new Summer trend including her best friend Stacy (who is wearing Ferb's outfit) who tells Candace that her ballerina dress designed by the world famous Gaston Le Mode is: "Soooo 42 seconds ago!".
Chad: Chad is a character that is only seen in "The Secret of Success". He and Stacy go out after seeing each other when they were in the same place as Candace and Baljeet at the convention.
Buford's Bully: The Bully is a bully to neighbourhood kids. He appeared in a flashback in "Voyage to the Bottom of Buford", in which he tries to eat Buford's fish, Biff. He later appeared in the "Tuff Gum" advert in "Suddenly Suzy".
Danny "DD" Dukenson is a Swedish exchange student who only appeared in "S'Winter". When Jeremy asks DD to go skiing with him, from Candace's point of view (DD's back) it appears that DD is a girl, when later she finds that he is a boy.
André Guilbaud is a chef with a French accent and a teacher at the local cooking class. Pierre is also Linda Flynn's cooking teacher. Pierre always wants everyone's attention in his cooking class. For example, when Candace called Linda to tell her about the boy's newest contraption, Chef Pierre took her cell phone and banged it with a mallet, crushing the cellphone into tiny pieces. Then he ordered her to pay attention and not use the phone ever again in his class. Pierre always pairs up Linda with Charlene Doofenshmirtz.
Thaddeus and Thor: (Danny Cooksey, Thaddeus) They are Phineas and Ferb's snooty competition in the episode "Thaddeus and Thor". They are known for the line "Gum me." Their older sister Mandy challenges Candace to make her brothers build an amazing fort. While Thaddeus is very vocal, Thor remains silent throughout the episode, like Ferb Fletcher.
Mandy: (Aliki Theofilopoulos Grafft) She is Thaddeus and Thor's sister and looks like Candace. Like Candace, she tries to bust her brothers, only to fail. She reappears in "Perry the Actorpus" to help daughters stop busting brothers, of which Candace enrolled, but had failed to remember to stop doing so.
Steve: He is Phineas and Ferb's pet chameleon that has only been on "The Lizard Whisperer", in which Dr. Doofenshmirtz made him a giant chameleon or a "dinosaur", but in the end he was made small again. He and Ferb have a special bond.
Mr. Miggins: He is Candace Flynn's stuffed teddy bear. Based on his appearance, he has been with her a very long time: Fluffy has been patched at least twice. Candace also threw him away when she thought Suzy would use it to humiliate her, but in Summer Belongs To You! she woke up from bed with the bear right next to her. In another episode, "Boyfriend From 27,000 B.C.", he appeared with a picture of Jeremy Johnson's face taped to it. Candace asked him his opinion on what she should wear to Stacy's costume party, and replied, "Gee, Candace. I don't know. I think you look beautiful in everything.".
Lyla Lolliberry (Samantha Bee) is a Canadian Agent working for C.O.W.C.A. (Canadian Organization Without a Cool Acronym) and helps Perry try to defeat Professor Bannister while saving Albert the Moose, while on a train which is bordering the U.S.A. and Canada. She appeared in Sidetracked and again in Just Our Luck.
Wendy Stinglehopper (Ariel Winter) is a girl who kissed Baljeet in "Phineas and Ferb Christmas Vacation!" (her only appearance so far) when Baljeet wanted to give her a gift for Christmas.
Balloony is an old friend of Dr. Doofenshmirtz that he lost when he was a lawn gnome. Balloony only appears in two episodes, when Meap comes to Danville and Ferb fixes his rocket. In the trailer of "Meapless in Seattle", it hints that Balloony might be in the future episode, with most fans believing he may be played at an antagonist. However, just was a minor character in the episode, and was popped, but was repaired by Perry.
Mishti Patel (Tiya Sircar) Is Baljeet's friend from India. Mishti was friends with Baljeet, they played soccer and got very muddy. Baljeet eventually left for America with his family so Mishti eventually went to visit him. She had grown into a beautiful, attractive young girl (this shocked Baljeet so much he ran away). Baljeet developed a crush on Mishti, but, she just wanted to have fun like in old times. Phineas set up a romantic cruise and Mishti only went because she wanted to go sailing (she didn't get the chance to hear the "Romantic" part of it). After the ship sunk and they escaped, Mishti revealed to Baljeet she just wanted to be friends with him, he agreed and they had a water fight. She reappears in "Rollercoaster: The Musical!" with Baljeet on Nosey.
Khaka Peu Peu (Ben Stiller) is a villain who wants everyone to have the worst day ever, since he has never had a good day in his life. When he got the Fireside Girl Gazette from Isabella, he knew what to do: Terrorize Danville and let them have the worst day ever. He only has appeared in "The Beak".
Santa Claus: He has been seen in 3 episodes: "I, Brobot", "Wizard of Odd" and "Phineas and Ferb Christmas Vacation".
Klimpaloon: He appeared in "Phineas and Ferb: Summer Belongs to You", where he was described as "the magical old-timey bathing suit that lives in the Himalayas". Love Händel also sang a song about him called The Ballad of Klimpaloon. He appears in "Ferb TV" for The Klimpaloon and Giant Floating Baby Head Hour segement of the episode. He appears in "The Klimpaloon Ultimatuim" as well.
Melanie (Pamela Adlon) - A secretary for Danville who works for Roger Doofenshmirtz. She may have romantic feelings, as she and Roger danced in "Make Play".
Heinz Doofenshmirtz's father (Dee Bradley Baker) - Heinz Doofenshmirtz's father who owned a dog called Only Son. He is on the main reasons Heinz turned evil and take over the Tri-State Area.
Heinz Doofenshmirtz's mother (Cloris Leachman) - Heinz Doofenshmirtz's mother who liked Roger more than Heinz. She also enjoys kickball.
Princess Baldegunde (Ashley Tisdale) - A princess who looks just like Candace. She was in Danville to give Roger an award, but she switched lives with Candace for a while. She called Jeremy "cute blond boy with guitar" on how to pronounce his name.
New Fireside Girls
In Season 2, four new Fireside Girls were seen for the first time, but two of them never were named and one may not be real. Also, in Season 3, 3 more were shown, and their names were mentioned.
The Unnamed Fireside Girl (blond) has long blond-hair with a red watch on her left arm. She has been seen in four episodes so far: "I Was a Middle Aged Robot", "The Beak", "Wizard of Odd", and "Phineas and Ferb: Summer Belongs to You"! Her name was never revealed.
The Unknown Fireside Girl (brunette) has brown hair in a ponytail with ear-rings. Her only appearance was "I Was a Middle Aged Robot".
Melissa (Meira Binkoff) is a Lil' Spark (aka Junior Fireside Girl) that appears in "We Call It Maze" who was going for her first patch. She admires Candace for earning 50 patches in one day. She is also the youngest scout seen so far in the series. She also cameos in "Great Balls of Water" and "Happy Birthday, Isabella".
The Dream Fireside Girl (Isabella Murad) appeared in "Wizard of Odd". She said that she had saliva in her mouth and may not be real due to the episode being mostly in a dream.
Brigitte, Josette, and Collette are three Fireside Girls that only appear in "Buford Confidental", as they appear to try to get their North American Tracking Patch in the Danville Woods. Brigitte appearently was in love with Buford, but he didn't want anyone to see it.
Future People
Main article: Phineas and Ferb's Quantum Boogaloo
Linda (Voiced by Caroline Rhea) still owns and runs the antique store from 20 years ago when she saw present Candace and Candace told her what Phineas and Ferb were doing all the time, and she believed it, but didn't bust them because Phineas and Ferb are about 30 years old. She has only appeared in "Phineas and Ferb's Quantum Boogaloo" to date.
Future Candace: The Candace in the Future (Voiced by Ashley Tisdale using her adult voice) is the form of Candace featured in "Phineas and Ferb's Quantum Boogaloo". Future Candace is shown at age 35. This is known because present Candace is 15, as she has a learner's driving permit, and the future part of "Phineas and Ferb's Quantum Boogaloo" is 20 years in the future. Future Candace eventually discovers the Time Machine at the Museum and travels back in time to the day of the episode "Rollercoaster". There she prevents the chain of events that led to the rollercoaster being taken away. This had the determental effect of causing Perry to get injured and when Future Candace returned to her original time, she found it has become an industrial wasteland and Doofenshmirtz had become the absolute ruler and everyone had to wear a version of his smock and go by the name Joe regardless of their gender (so Dr. Doofenshmirtz wouldn't have to bother remembering more than one name). Future Candace eventually found the time machine and restored the original timeline with help from present Isabella. The Candaces also appear in "Rollercoaster: The Musical!" when Candace tries to get Linda out of the supermarket.
Amanda, Fred, & Xavier (Voiced by Jennifer Stone, Moises Arias, and Noah Munck respectively) are Candace's future children featured in "Phineas and Ferb's Quantum Boogaloo". At the future point, Amanda is about the same age as Present Candace as is like her in many ways, including trying to rat out her two younger brothers, Fred and Xavier to Future Candace who becomes like Linda. Fred and Xavier, being at Phineas and Ferb's current age, are almost opposite of Phineas and Ferb, preferring to just lie by their holographic tree instead of doing anything until Phineas and Ferb convince them to get creative, not knowing that they have met their uncles at a younger age. When Amanda claimed that present Isabella looks like her Aunt Isabella, Isabella thought she married Phineas. When Present Candace added "or Ferb", Isabella shuddered indicating the concept was one which Isabella was not pleased about. Their last name was not specified but since it has been stated by Candace that she already had plans to marry Jeremy and have two kids, Amanda and Xavier, she must have had three and named the third Fred, it can be reasonably assumed that their last names are Johnson.