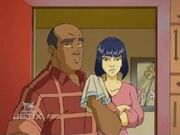 Lionel Cook
(voiced by Dorian Harewood) is
Taranee's
father, and a very good cook. It seems he works as a chef. He is allergic to fur, and by extent, Mr. Huggles. Yet he thinks animals are very cute and regrets his allergy. Lionel is a little bit overweight and is an African-American.
Relatives
Trivia
He doesn't like marmalade[1]
Gallery
References
Ad blocker interference detected!
Wikia is a free-to-use site that makes money from advertising. We have a modified experience for viewers using ad blockers

Wikia is not accessible if you've made further modifications. Remove the custom ad blocker rule(s) and the page will load as expected.