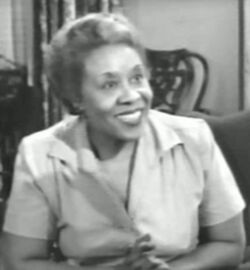 Lillian Randolph
(
December 14
,
1898
–
September 12
,
1980
) was an American actress and singer, a veteran of radio, film, and television.
Her Disney roles included Mammy Two Shoes in the Silly Symphonies cartoons Three Orphan Kittens, Broken Toys (as a Mammy doll), More Kittens, the Pluto cartoon Pantry Pirate and Old Aunt Delilah in Figaro and Cleo.
Ad blocker interference detected!
Wikia is a free-to-use site that makes money from advertising. We have a modified experience for viewers using ad blockers

Wikia is not accessible if you've made further modifications. Remove the custom ad blocker rule(s) and the page will load as expected.