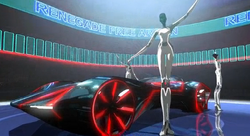 The
Light Speedster
is a vehicle from the
Tron
grid
. It appears in the
Tron: Uprising
 episode "The Reward".
General Tesler
 offers it as a reward for whoever will turn the
renegade
 in.
Pavel
 convinces
Link
 to turn Hopper in and gets the speedster. While he is driving it, Beck, in his renegade form, appears in the back seat telling him to secretly transport him to the "Renegade execution". It starts before he can talk Link into it so, he "borrows" the car and saves Hopper,
Mara
, and
Zed
 in the speedster.
Ad blocker interference detected!
Wikia is a free-to-use site that makes money from advertising. We have a modified experience for viewers using ad blockers

Wikia is not accessible if you've made further modifications. Remove the custom ad blocker rule(s) and the page will load as expected.