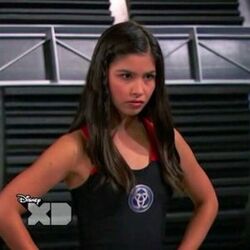 Lexi is a character and antagonist from Lab Rats who appeared in "Bionic Rebellion". She's a student at the Davenport Bionic Academy and she helps Sebastian and Tank to take down The Team. She is in the Expert Level along with Sebastian and Tank, and is one of the best students at the academy. Her and Tank are loyal to Sebastian. She fights Bree in Bionic Rebellion, as she is her mentor.
She is portrayed by Marissa Cuevas.
Ad blocker interference detected!
Wikia is a free-to-use site that makes money from advertising. We have a modified experience for viewers using ad blockers

Wikia is not accessible if you've made further modifications. Remove the custom ad blocker rule(s) and the page will load as expected.