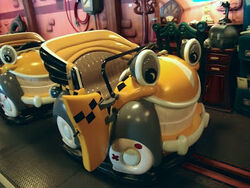 Lenny the Cab
is
Benny the Cab's
twin cousin who works for the
Toontown
Cab Company.
Description
Lenny serves as the ride vehicle for the Roger Rabbit's Car Toon Spin attractions at Disneyland and Tokyo Disneyland.
Trivia
The fact that a Toon can have a family implies that the idea (theorized by many fans) that Toons are created by humans using ink and paint is actually wrong. However, as Lenny only appeared in a ride and not in a film or book makes him only half-canon, leaving the final answer to the question above unknown. 
Ad blocker interference detected!
Wikia is a free-to-use site that makes money from advertising. We have a modified experience for viewers using ad blockers

Wikia is not accessible if you've made further modifications. Remove the custom ad blocker rule(s) and the page will load as expected.