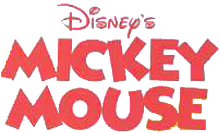 Lego Mickey Mouse was a Lego theme released in 2000. It was based around the classic Disney animated short characters Mickey Mouse, Minnie Mouse, and Pluto, construction-wise based heavily on the earlier Fabuland theme.
Sets
4164 Mickey's Fire Engine
4165 Minnie's Birthday Party
4166 Mickey's Car Garage
4167 Mickey's Mansion
4178 Mickey's Fishing Adventure
There was also a Disney's Baby Mickey series:
2592 Baby Mickey & Baby Minnie
2593 Baby Mickey
2594 Baby Mickey & Baby Minnie's Playground
Gallery
External links
| | |
| --- | --- |
| | This page uses content from the English Wikipedia. The article or pieces of the original article was at Lego Mickey Mouse. The list of authors can be seen in the page history. As with Disney Wiki, the text of Wikipedia is available under the GNU Free Documentation License. |
Ad blocker interference detected!
Wikia is a free-to-use site that makes money from advertising. We have a modified experience for viewers using ad blockers

Wikia is not accessible if you've made further modifications. Remove the custom ad blocker rule(s) and the page will load as expected.