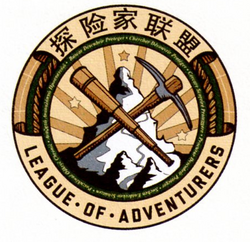 "Seek the unknown, Discover the unbelievable, Protect the world's treasure - no matter the peril."
―League motto

The League of Adventurers is a group of explorers and adventurers created as part of the backstory for Shanghai Disneyland's Adventure Isle area.
Established in the 1920s, the League of Adventurers is a globe-trotting organization dedicated to scientific and archeological studies and expeditions. In 1935, their airship was driven off course and ended up landing on Adventure Isle, where they would end up establishing friendly relations with the local Arbori tribe. In the time since then, they have established a base at Camp Discovery to explore the caverns and cliffs of the mountains and work on excavating ancient Arbori ruins and have established a rafting expedition course on Roaring Rapids.
Bulletin boards in the League office at Camp Discovery show connections to attractions from other parks around the world: In 1931, an archeological team from the League discovered the Temple of the Crystal Skull in the Lost River Delta. Other photographs and expedition patches tie the League to Expedition Everest, including photographs of the Yeti.
See also