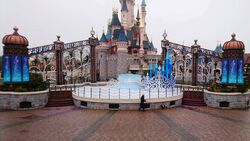 Le Théâtre du Château is a stage located in Fantasyland at Disneyland Park (Paris).
History
Opened with the park in April 12, 1992, the grand stage was built to host large-scale shows, such as its original — and still sorely missed — "Le Livre Magique de Mickey", in which a giant book on-stage would turn its pages to reveal new scenes.
After 1998's "Winnie the Pooh and Friends, too!", moved to Fantasy Festival Stage for a less prominent and better sheltered venue in 2006, the stage was resurfaced with wooden decking and destined to become merely a meet 'n' greet space from then on. A brief rebirth came during the Christmas season of 2009, when a small Snow White "happening" came to the stage to tie in with a re-release of the film.
It took until 2015 for the stage to return to regular use, hosting shows for the Spring, Halloween, and Christmas seasons. Two new shows, "The Starlit Princess Waltz" and "Mickey presents: Happy Anniversary Disneyland Paris", are planned to be performed here during the 25th Anniversary celebration.
Productions
Current
Past
Other Events
Father Christmas' Workshop Meet 'n' Greet (2001)
Goofy's Christmas Grotto Meet 'n' Greet (2002)
Disney Character Meet 'n' Greets (2006 – )
St David's Welsh Festival events (2006 – )
St Patrick's Day events (2006 – )
See also
References