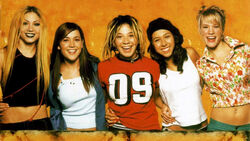 Las Bandana
are an Argentinian pop music band. The band is comprised of Ivonne Guzman, Lourdes Cecilia Fernandez, Valeria Gastaldi, Virginia Da Cunha, and Maria Elizabeth Vera. Although they were very popular in the early
2000s
, they eventually disbanded in
2004
, but then reunited in
2016
.
For Disney, they contributed to "Muero de Amor Por Tí" (their version of "Can't Help Falling in Love") for the soundtrack of the Latin American version of Lilo & Stitch.
Ad blocker interference detected!
Wikia is a free-to-use site that makes money from advertising. We have a modified experience for viewers using ad blockers

Wikia is not accessible if you've made further modifications. Remove the custom ad blocker rule(s) and the page will load as expected.