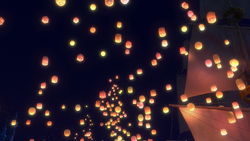 The Lanterns
of the film
Tangled
, appear at the festival for the lost princess, in hope that they will guide her home
Story
The lanterns start out as a celebration for the baby princess Rapunzel. The King and Queen launched one into the sky, and it rose up into the heavens. When Mother Gothel stole the baby to keep herself young and beautiful, the lantern launching tradition began. Ever since then, on the princess' birthday, they launch thousands of glowing lanterns into the sky in hope that she will be guided home by them. While growing up, Rapunzel was fascinated by them and wanted to see them in person. She does end up seeing them with Flynn Rider and is fascinated by them.
Galleries
Ad blocker interference detected!
Wikia is a free-to-use site that makes money from advertising. We have a modified experience for viewers using ad blockers

Wikia is not accessible if you've made further modifications. Remove the custom ad blocker rule(s) and the page will load as expected.