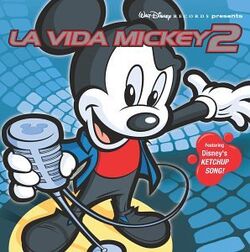 La Vida Mickey 2 is a 2003 Walt Disney Records album featuring more Disney versions of pop songs.
Details
Audio CD (March 4, 2003)
Number of Discs: 1
Label: Walt Disney Records
ASIN: B00008IAMK
Track listing
Fiesta! - Julie Griffin
Maria - Marco Marinangeli
Disney's Ketchup Song - Tomates
Mickey Loves Mambo - Mark Lennon
Palabras (Are The Words) - Marco Marinangeli
Wooly Bully - Marco Marinangeli
Bamboleo - Marco Marinangeli
Arriba, Arriba! - Julie Griffin
Besame Mucho - Francis Benitez
I Need To Know - Renee Sandstrom
Spanish Flea/Tijuana Taxi - Ervan Coleman
Don't Say Goodbye - Renee Sandstrom
Mickey's Mambo - Lina Marquez
Ad blocker interference detected!
Wikia is a free-to-use site that makes money from advertising. We have a modified experience for viewers using ad blockers

Wikia is not accessible if you've made further modifications. Remove the custom ad blocker rule(s) and the page will load as expected.