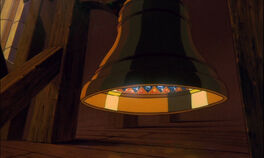 The La Fidèle (Faithful One) is the Notre Dame Cathedral's most beloved bell. It is seen in The Hunchback of Notre Dame II as the main prop. It is an enormous, golden bell with beautiful gems ringing the inside portion. It is rung every year to celebrate the Festival of Love. As Notre Dame's bellringer, Quasimodo is the caretaker responsible for La Fidèle.
Gallery
Ad blocker interference detected!
Wikia is a free-to-use site that makes money from advertising. We have a modified experience for viewers using ad blockers

Wikia is not accessible if you've made further modifications. Remove the custom ad blocker rule(s) and the page will load as expected.