Disney's Kurze Pause, (Disney's Short Break) is a German sitcom series broadcast on the Disney Channel Germany since 2006. It is a German adaptation of the Disney Channel Italy Original Series Quelli dell'intervallo, with no firm scheduling except for its Sunday broadcast. It consists of vignettes approximately five to eight minutes long.
Characters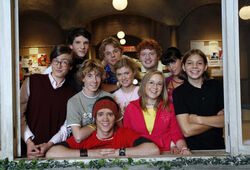 Moritz (Mo) - played by Bela Klentze
Philip (Flip) - played by Benjamin Trinks
Julia - played by Isabella Soric
Katarina (Kata) - played by Sophie Belcredi
Eberhard (Streberhard) - played by Lukas Nathrath
Nico - played by Constantin
Anton (Tonne) - played by Roland Schreglmann
DJ - played by Lea Kalbhenn
Rocky - played by Laelia Platzer
Spy - played by Tobias Core
Lilli - played by Julia Eggert
Luca - played by Sabin Tambrea (Season 2-)
Stella - played by Amy Mußul (Season 3-)
See also
External links
| | |
| --- | --- |
| | This page uses content from the English Wikipedia. The article or pieces of the original article was at Kurze Pause. The list of authors can be seen in the page history. As with Disney Wiki, the text of Wikipedia is available under the GNU Free Documentation License. |
Ad blocker interference detected!
Wikia is a free-to-use site that makes money from advertising. We have a modified experience for viewers using ad blockers

Wikia is not accessible if you've made further modifications. Remove the custom ad blocker rule(s) and the page will load as expected.