Ad blocker interference detected!
Wikia is a free-to-use site that makes money from advertising. We have a modified experience for viewers using ad blockers

Wikia is not accessible if you've made further modifications. Remove the custom ad blocker rule(s) and the page will load as expected.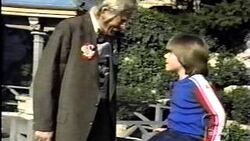 Kraft Salutes Disneyland's 25th Anniversary is a television special commemorating the 25th anniversary of Disneyland. It originally aired on CBS on March 6, 1980.
Synopsis
Filmed throughout Disneyland, this made-for-TV special celebrates the 25th anniversary of the park. We follow the story of a young boy (Adam Rich) on his first ever trip to there. While there, he encounters many interesting characters (all played by Danny Kaye) who tell him various tidbits on the park's history. There are also musical numbers by Donny Osmond, Michael Jackson, and Danny Kaye as well as group sing alongs that include many actual Disneyland cast members and guests!
Cast
Danny Kaye ... Himself
Michael Jackson ... Himself
Adam Rich ... Himself
Wally Boag ... Himself
Sorrell Booke ... Himself
Bart Braverman ... Himself
Danielle Brisebois ... Herself
Ruth Buzzi ... Herself
Peggy Cass ... Herself
Quinn Cummings ... Herself
Buddy Ebsen ... Himself
Jamie Farr ... Himself
Annette Funicello ... Herself
Stephen Furst ... Himself
Fred Grandy ... Himself
Gregory Harrison ... Himself
Ted Lange ... Himself
Richard Paul ... Himself
Joan Prather ... Herself
Kim Richards ... Herself
Ronnie Schell ... Himself
John Schneider ... Himself
Judy Norton ... Herself (as Judy Norton-Taylor)
Sal Viscuso ... Himself
Robert Walden ... Himself
Patrick Wayne ... Himself
Anson Williams ... Himself
Jo Anne Worley ... Herself
Linda Gray ... Herself
Gallery