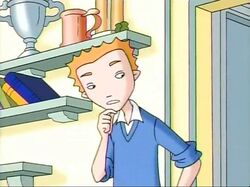 Kirk McQuarrie (voiced by Jason Marsden) is a secondary characters from Disney's animated series The Weekenders. He is Lor's oldest brother and is noted for wearing a collared t-shirt and a sweater and beige pants. He plays basketball and football. He also dated Carver's sister Penny in the episode "Penny McQuarrie."
Gallery
Trivia
His clothing and design looks similar to Tintin, a comic book character created by Georges Remi, also known as Hergé.
Ad blocker interference detected!
Wikia is a free-to-use site that makes money from advertising. We have a modified experience for viewers using ad blockers

Wikia is not accessible if you've made further modifications. Remove the custom ad blocker rule(s) and the page will load as expected.