Kingdom Keepers
Comments

10
24,014pages on
this wiki
The Kingdom Keepers is a popular book series for kids, teenagers and adults, written by Ridley Pearson and published by Disney Hyperion.
In the Kingdom Keepers series, five teens have been chosen to act as models for holographic guides at Walt Disney World. But the cutting-edge technology has a glitch; when the kids fall asleep, they are transported to the Parks in their holographic forms. The ensuing adventures take readers on a rollicking ride as the Kingdom Keepers fight to prevent Disney's destruction.
You can visit the official site for the Kingdom Keepers now at Thekingdomkeepers.com.
Current Books
The Kingdom Keepers series currently features six books. The first novel Disney After Dark was published in 2005, the second novel Disney at Dawn was published in 2008, the third novel Disney In Shadow was published in 2010, the fourth novel Power Play was published in 2011, the fifth novel Shell Game was published in 2012 and the newest novel Dark Passage was published on April 2 2013.
Kingdom Keepers I: Disney After Dark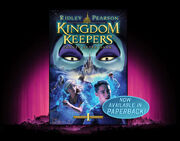 Using a cutting-edge technology called DHI- which stands for both Disney Host Interactive and Daylight Hologram Imaging- Finn Whitman, an Orlando teen, and four other kids are transformed into hologram projections that guide guests through the park. The new technology turns out, however, to have unexpected effects that are both thrilling and scary. Soon Finn finds himself transported in his DHI form into the Magic Kingdom at night. Is it real? Is he dreaming?
Finn's confusion only increases when he encounters Wayne, an elderly Imagineer who tells him that the park is in grave danger. Led by the scheming witch, Maleficent, a mysterious group of characters called The Overtakers is plotting to destroy Disney's beloved realm, and maybe more.
Kingdom Keepers II: Disney At Dawn
It's supposed to be a happy day at the Magic Kingdom- the return of the teenaged holographic hosts. But things go very wrong when a sudden lightning storm disrupts the celebration, and Amanda's mysterious sister, Jess, disappears. The only clue is the sighting of a wild monkey in the Magic Kingdom during the storm.
The mystery deepens as Finn is contacted by Wayne, an old man he hasn't heard from in months. Wayne tells Finn that there's trouble at the Animal Kingdom: the evil Overtakers have gained control of one of the computer servers that will be used to operate Daylight Holographic Imaging there. That means that if any of the holographic hosts fall asleep, they will go into comas-permanently.
The wild rides have only just begun; and the clock is ticking. How long can the teens keep themselves awake in their quest to find their friend- and what happens if they fail?
Kingdom Keepers III: Disney In Shadow
With the adventures set forth in the first books now behind them, Kingdom Keepers 3: Disney In Shadow follows the five teens, Finn, Philby, Willa, Charlene, and Maybeck as they search to find Wayne, their mentor and head Imagineer who has mysteriously gone missing. Concerned Wayne has been abducted by the Overtakers- Disney villains, who along with other Disney characters, take over the parks when the turnstiles stop spinning, and want desperately to steer the parks to a far darker place- the five kids pick up a major clue from a close friend, Jess, whose dreams (nightmares, really) often accurately predict the future.
The very few clues from Jess's dream lead the kids into Disney's Hollywood Studios and Epcot-through imaginary worlds that become real, by imaginary kids who are real. Each clue seems tied to the last, and with the stakes growing ever higher, what starts out as a puzzle ends up as a fight for their lives.
Kingdom Keepers IV: Power Play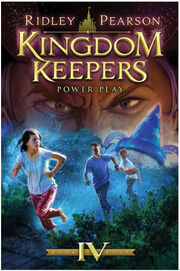 For the five teens who modeled as Disney Hologram Imaging hosts, life is beginning to settle down when an intriguing video arrives to Philby's computer at school. It's a call for action: the Overtakers, a group of Disney villains, seem to be plotting to attempt a rescue of two of their leaders, both of whom the Disney Imagineers have hidden away somewhere following a violent encounter in Epcot. A staged attack by new Overtakers at Downtown Disney, startles the group.
One of their own, Charlene, is acting strange of late. Has she tired of her role as a Kingdom Keeper or is there something more sinister at play? When caught sneaking into Epcot as her DHI, acting strictly against the group's rules, Finn and Philby take action.
Has the "impossible" occurred? Have the Overtakers created their own holograms? Have they found a way to "jump" from the Virtual Maintenance Network onto the Internet, and if so, what does that mean for the safety of the parks, and the spread and reach of the Overtakers? Are they recruiting an army from outside the parks?
Kingdom Keepers V: Shell Game
As the Disney Dream joins the cruise fleet, a special treat is in store for guests aboard its inaugural sail from Cape Canaveral to Los Angeles: the Disney Host Interactive teenage guides will be part of the Dream crew.
Finn, Maybeck, Charlene, Willa, and Philby are to attend the cruise as celebrity guests, and to perform a ribbon cutting for the DHI server to go live. The Dream is now the most advanced cruise ship in the world.
But all is not right belowdecks. Strange things are happening. Unexplained phenomena. Only the Kingdom Keepers know the truth behind their invitation: nearly every Disney villain is represented on board the new ship: whether on its decks or in its theaters. It's believed the Overtakers have infiltrated the cast and are "stowaways." Worse: it is believed they have stolen an important journal that once belonged to Walt Disney himself–Finn has been having dreams about this–and that some kind of mission is planned.
The ship sets sail filled with enthusiastic guests and crew, and the battle is on in new and exotic arenas. But the end game is far more complicated and intense than anything the Kingdom Keepers had planned on. If the Overtakers get their way, a power will be unleashed that no one will possess the ability to vanquish.
Kingdom Keepers VI: Dark Passage
The five Kingdom Keepers and their core friends have uncovered a startling truth: Maleficent and the Overtakers (Disney villains) are plotting a catastrophic event that could have repercussions far beyond the world of Disney. Aboard the Disney Cruise Line's inaugural passage through the new Panama Canal, the Keepers and their holograms uncover a puzzle hidden within the pages of a stolen journal. The point of that puzzle will reveal itself in the caves of Aruba, the zip lines of Costa Rica, and the jungles of Mexico. A destructive force, dormant for decades, is about to be unleashed. The five Kingdom Keepers are to be its first victims.
Future Books
The seventh book in the Kingdom Keepers series is set to be released in April 2014. Readers can actually participate in the writing of the final Kingdom Keepers book with a special app called Kingdom Keepers Insider. To find out more about this special experience check out the video below.
Kingdom Keepers Insider isn't the only surprise that Ridley Pearson has for his fans. He has revealed that there will be a second Kingdom Keepers series in the future.
"We were debating something considerably different for the second series, and I think it won't be all that different in a lot of ways because I'm having a hard time letting go of the characters and the readers polled are having a hard time letting go of it being about the (Disney) parks. They'll be older. I hope it will be mostly the same characters and also set in the Disney parks,". "On my last book tour, I took a hand poll of what people wanted - the same characters or the same locations. It was weird because I expected it to go one way, but it was 50-50. I was going to take the same characters and move them overseas into kind of a different world- more our world, but with the Overtaker world coming into our world. I haven't started it yet. So we'll just have to see."
The Keepers
Lawrence Finnegan "Finn" Whitman: Finn is the head of the Kingdom Keepers DHI team. He took the DHI job at his mother's urging–little did she know what path that would lead him down. Finn is probably not the smartest of the Kingdom Keepers.But with his quick wit, courage and somewhat grace under pressure he comes up with some pretty creative responses to danger.
Charlene Turner: Charlene is an overachiever girl turned covert DHI team member. This girl is a cheerleader, dancer, track runner and champion gymnast. All that and a Scrabble wiz plus a keen ability to decode anagrams. Yep, she's smart. But she's still scared of the dark, and extremely afraid of Maleficent. In fact, Charlene is the most easily frightened of all the DHI kids. But despite some whining and a bit of boy-craziness, Charlene is good with people and can make friends with anyone.

Terrence "Donnie" Maybeck: Maybeck is one effortlessly cool guy. He's very popular with the girls at school – probably due to his sarcastic demeanor and sense of humor. He isn't always enthusiastic about the DHI adventures and he likes to work alone. He sometimes reacts too quickly. His skepticism makes him the perfect devil's advocate – Maybeck sees situations in ways the other Keepers don't always consider.

Isabella Angelo (Willa): Willa likes to play by the rules. Admittedly she is a super smart geek with some pretty nerdy hobbies, like, say, archery. Actually, archery is kind of cool (and possibly useful). She's also a swimmer and an animal lover. She's pretty virtuous all around, which is why she doesn't like to break Disney's rules – sometimes problematic for a DHI trying to fight the Overtakers. But don't be fooled – Willa is a pretty daring girl and she will surprise you!
Dell Philby: Philby is a bit of a genius. He's an excellent researcher, a walking encyclopedia, a computer wiz and an electronics mastermind. His thrill-seeking tendencies play against his inner techno geek. The girls at school adore him, but he wants nothing to do with them (except for Willa). He is focused. His weekends are about rock climbing and, of course, his laptop.

Amanda Lockhart: Amanda is considered to be an honorary Kingdom Keeper. She is known as a "Fairlie" (as in a person who is fairly human) and has the magical ability to move things with her mind. Finn also has a huge secret crush on Amanda.
Jessica Lockhart: Jess is also a "Fairlie" and has the magical ability to see the future. She is also an honorary Kingdom Keeper. She was once cursed by Maleficent and was prevented from using her power. Though Jess is not biologically related to Amanda, since she was little she has always referred to her as a sister. Wayne sometimes uses her ability to send The Keepers messages.
The Overtakers
Maleficent: Maleficent, the evil fairy from Sleeping Beauty, is the main antagonist in Disney After Dark, Disney At Dawn, Disney In Shadow and Shell Game but only appears briefly in Power Play. She gives off a large chill wherever she goes and possesses very powerful abilities. Some of her powers are still a mystery to The Keepers. Despite her power and reputation Maleficent is not the main leader of The Overtakers. Mlificient is shown on the first book cover.
Chernabog: Chernabog, the huge bat-like monster from Fantasia, is the true leader of the Overtakers, and according to Philby, "The baddest of the bad. The most powerful demon Walt Disney ever created." Chernabog first appeared in Disney At Dawn and showed up again in Disney In Shadow. Like Maleficent he only appeared briefly in Power Play. Chernabog showed up on th e first books cover.
The Queen: The Queen, from Snow White And The Seven Dwarfs, is one of the newest Overtakers in The Kingdom Keepers series. She first appeared in Power Play alongside Cruella De Vil. Like Maleficent she is very powerful and can cast almost any spell with a flick of her finger. In the fourth book of the saga, Power Play, while Maleficent and Chernabog are captured by the Keepers, she becomes the new leader of The Overtakers.
Cruella De Vil: Cruela De Vil, from 101 Dalmations, one of the newest Overtakers in The Kingdom Keepers series. She first appeared in Power Play alongside The Evil Queen. Although she does not have any magical powers in the book she is the sidekick to The Evil Queen.
Judge Claude Frollo: Judge Frollo, from The Hunchback of Notre Dame, is one of the newest Overtakers in The Kingdom Keepers series. He first appeared in Power Play commanding an army of Green Army Men from Toy Story, where he tries to get information out of Willa after she fell into the Sleeping Beauty Symdrome.
Jafar: Jafar from Aladdin is one of the newer overtakers, unlike most of the Overtakers, he is not as interested in Maleficent's plans, he is only one of them because he wants to get his hands on the power of DHIs. He first appears in Power Play where he threatened Willa and Maybeck to hand over their ability but they both escape with Willa being able to cause him to recoil by playing a flute. He is said to appear again in Shell Game.
Shan Yu: Shan Yu, from Mulan is one of the newest Overtakers in The Kingdom Keepers series. He first appeared in Power Play. During Fantasmic he appeared in front of Finn, ordering him to give him the "magic" that he believed the DHI's possessed. He also tells him to tell their "emperor" to send his best warriors into fight that he would be awaiting them.
Other Main Characters
Wayne Kresky: Wayne, an elderly Imagineer, is the mentor and guide of The Kingdom Keepers. He was very close to Walt Disney when he was alive and knows everything there is to know about Walt Disney World. He may seem tricky at times but he's always there to help out the Keepers. In Disney In Shadow it is revealed that he has a daughter named Wanda.
Mrs. Whitman: Mrs. Whitman is Finn's mother. She convinced Finn to become a DHI at Walt Disney World and in Disney After Dark, Disney At Dawn and Disney In Shadow she didn't believe him when he tried to tell her what he really had become. In Power Play though she finally discovered the truth about Finn and his friends. Because of this she now has a larger role in The Kingdom Keepers series.
Ariel: The mermaid from The Little Mermaid who first appears in Power Play when she helps Willa escape Judge Claude Frollo. She then teams up with the Keepers to defeat The Overtakers. It is revealed at the end of the book that she is friends with the captain of the Disney Magic.
Mulan: The female warrior from her own movie who first appears in Power Play who helps Charlene and Finn escape Shan-Yu and the Huns.
Minnie: She first appears in Power Play where she helps Finn remove the Sleeping Beauty Syndrome on Amanda. Minnie gets upset when Finn asks of Mickey Mouse's whereabouts in "Power Play", displaying her sorrow for Mickey's disappearance.
Pluto: He first appears in Power Play where he and Minnie assist both Finn and Amanda.
The Kingdom Keepers Quest
The Kingdom Keepers Quest involves problem solving, visualization, observation, creativity, math skills, language arts, and critical thinking. Solutions will come faster with multiple students (five students per group is recommended) working to solve puzzles throughout the Magic Kingdom® Park — just as the Keepers do in the first book, Kingdom Keepers: Disney After Dark. 

In the Kingdom Keepers book series, five teenagers — Finn, Charlene, Philby, Willa and Maybeck — who served as models for the Disney Hologram imaging park holograms, enter the parks, usually at night, and do battle with the Overtakers (The Disney Villains) for control of the Disney Parks. Finn and the Kingdom Keepers must grow their team, adding Keepers. You are in consideration to join as a Keeper.  Wayne, who is an original Disney Imagineer (and was once friends with Walt Disney himself) helps the Kingdom Keepers in their battles with the Overtakers. Wayne designed the Kingdom Keepers Quest to grow increasingly more difficult the further along you go so that the Overtakers would not be able to solve the puzzles and stop you from completing the Quest. Finish the Kingdom Keepers Quest and YOU will join the Kingdom Keepers in protecting the Disney Parks. Finn, Charlene, Philby, Willa and Maybeck look forward to welcoming you to the team. Good Luck!
You can visit Disneyyouth.com now to find out more information.