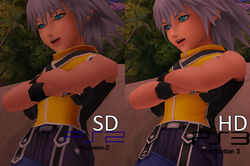 "It all starts here."
—Tagline
Kingdom Hearts HD I.5 ReMIX (pronounced & read as 1.5 Remix) is an HD remaster compilation of the Kingdom Hearts series, made in celebration of the series's tenth anniversary. It includes full HD remasters of Kingdom Hearts Final Mix and Kingdom Hearts: Re:Chain of Memories with added PlayStation 3 Trophy support. It also includes a collection of cutscenes from Kingdom Hearts 358/2 Days up-scaled in full HD within the compilation's Theater Mode. It marks the first time Kingdom Hearts Final Mix will be made available outside of Japan, and the first time Kingdom Hearts Re:Chain of Memories will be available in Europe and Australia.
The credit roll viewable from the title screen contains cutscene footage from Kingdom Hearts II Final Mix, Kingdom Hearts coded, and Kingdom Hearts Birth by Sleep which served to hint towards the games included in the second remix Kingdom Hearts 2.5 .
New Features
Kingdom Hearts HD I.5 ReMIX not only renders the first Kingdom Hearts games in HD, but also updates them to better fit in with the more later installments in the series. For example, Sora, Riku, Kairi, Ansem, and various other character's models have been updated with those from Kingdom Hearts 3D: Dream Drop Distance. The scripts of the early games have also been revised to be more consistent with the overall plot of the later games.
In terms of mechanics, the controls in Kingdom Hearts Final Mix are more similar to those of Kingdom Hearts II and the "?" command is replaced with a Reaction Command feature. In its place, the fourth command slot will be used for Summons. Cutscenes exclusive to Kingdom Hearts Final Mix, which were either unvoiced or use English voice acting, are dubbed in Japanese, and every cutscene from Kingdom Hearts 358/2 Days, whether it was originally a prerendered scene or used in-game graphics, will be remade for Theater Mode as a 2 hour long film.
Development
KH Days Film
Originally they had planned to make Kingdom Hearts 358/2 Days playable, like the other two games, but that would have caused the production to take much longer than the developers would have liked. They would have had to re-make the game from scratch, both graphically as well as come up with new programming needed for actual game-play due to its transition from the Nintendo DS hardware to the Sony PlayStation 3 hardware. Doing so would have delayed the game greatly, having its release date possibly skip over its intended Ten Year Anniversary release date.
Unofficial Western Announcement
On January 24 Jesse McCartney would upload images onto his Instagram, showing that he was recording for his lines as Roxas in the Days segment of HD I.5 ReMIX. Later he would also post a video onto his Keek, so fans could watch and listen in on some of his recordings. Though later that same day his videos and pictures were taken down, possibly to avoid causing trouble with Disney and Square Enix. But as a result of his actions, it is now known that the Kingdom Hearts HD I.5 ReMIX will indeed be ported to the west.
Overall changes
Video output supported in 480p, 720p, 1080i and 1080p.
Audio output supported in Dolby Digital 5.1 sound and DTS Digital Surround 5.1.
PlayStation 3 trophy support.
Unlockable PlayStation 3 theme for each title.
Updated character models.
Remastered background music.
Kingdom Hearts Final Mix
Remastered in high definition.
Zero EXP and Combo Master abilities have been added to the game.
The right analog stick now controls the camera.
Summons now occupy the fourth Command Menu slot.
Talk and other special commands are now bound to .
Cutscenes can now be skipped.
The Final Fantasy X-2 trailer on the game's menu is replaced with a Back button to return to the main menu.
Kingdom Hearts Re:Chain of Memories
Remastered in high definition.
Maverick Flare, Midnight Roar, Total Eclipse, and Two Become One from 358/2 Days added as new attack cards. They replace four of the six attack cards from Kingdom Hearts II, Monochrome, Follow the Wind, Photon Debugger, and Hidden Dragon.
Kingdom Hearts 358/2 Days
Remastered cutscenes in high definition.
2 hours and 50 minutes of fully-voiced, high definition cutscenes across 109 "chapters".
Includes all Roxas's Diary, Secret Reports and Character Database entries.
Completing all of the above will unlock the special attack and enemy cards for Kingdom Hearts Re:Chain of Memories that was previously accomplished by connecting with Kingdom Hearts II Final Mix's save file or completing both Sora and Riku's games.
Pre-Order Bonus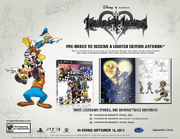 Pre-Ordering the game will come with a Limited Edition Artbook at launch. The Artbook contains early sketches, character renders, and final pieces of artwork from Tetsuya Nomura.[2]

Trivia
In the Kingdom Hearts Final Mix portion of the game, there's an error. If one tries to leave Evil Grounds (the area Chenobog is fought at) to reach the World Terminus, the screen will go black and only the sound of Sora yelling when the attack button is pressed will be heard.
Gallery
Videos
Trailers
References
External links