"King of Sherblorg 7" is a character in Wander Over Yonder. He is voiced by Kevin McDonald.
History
He is first seen in The Loose Screw, when his planet is taken over by Mandrake the Malfeasant until Stella Starbella rescues him along with Wander and Sylvia and enjoys one of her cookies.
He was seen again in The Rager when he and other planet rulers were captured by Lord Hater until he and the others were rescued by Wander and Sylvia thanks to their rager party.
Appearances
v - e - d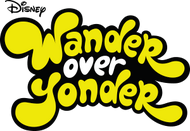 Organizations/Groups
Lord Hater's Army • Insurgent Generals • Wander and Sylvia • Bounty Hunters • Lord Dominator's Army • Galactic Villain Leaderboard
Locations
Lord Hater's Spaceship • Binglebopolopolis • Doomstone • Baaaaa-halla • Phunulon • Ballzeria • Buster • Doom Arena • Planet Ziziks • Flendar • Lord Dominatior's Spaceship • Arachnomorph Homeworld
Ad blocker interference detected!
Wikia is a free-to-use site that makes money from advertising. We have a modified experience for viewers using ad blockers

Wikia is not accessible if you've made further modifications. Remove the custom ad blocker rule(s) and the page will load as expected.