The
King of Flendar
is a character in
Wander Over Yonder
. He is voiced by
Corey Burton
.
Appearance
The king looks like a purple mole-like alien wearing a royal crown. He has purple fur with white hair and a mustache.
Role in Show
In "The Brainstorm", his planet is planned to be conquered by Lord Hater but delayed when Lord Hater and his army were brainstorming ideas for if Wander and Sylvia showed up. Then Lord Hater and his army try to attack but ended up being stopped by Wander and Sylvia in the end and was seen cheering.
Later in "The Rager", he was part of the rulers Lord Hater captured and then escaped thanks to Wander.
Episodes
v - e - d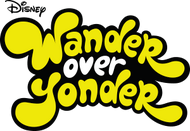 Organizations/Groups
Lord Hater's Army • Insurgent Generals • Wander and Sylvia • Bounty Hunters • Lord Dominator's Army • Galactic Villain Leaderboard
Locations
Lord Hater's Spaceship • Binglebopolopolis • Doomstone • Baaaaa-halla • Phunulon • Ballzeria • Buster • Doom Arena • Planet Ziziks • Flendar • Lord Dominatior's Spaceship • Arachnomorph Homeworld