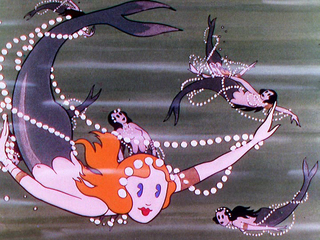 King Neptune's daughters are six sisters who appeared in the Silly Symphony short, King Neptune.
Role in the Film
When they are exploring above the sea, one of them is captured by pirates. She is then rescued by her father, who becomes enraged when the lustful pirates threaten violence against the innocent mermaid. Creatures of the deep rise to do Neptune's bidding, and soon, the pirate ship is laid on the ocean floor.
Gallery
Ad blocker interference detected!
Wikia is a free-to-use site that makes money from advertising. We have a modified experience for viewers using ad blockers

Wikia is not accessible if you've made further modifications. Remove the custom ad blocker rule(s) and the page will load as expected.