King Draykor is a character in Wander Over Yonder.  He is voiced by Fred Tatasciore.
Background
Darkor the "evil" Dragon King, is the false antagonist of the Wander Over Yonder episode "The Hero". According to Sir Brad Starlight, Draykor had kidnapped Princess Demurra and was holding her captive at his castle. But it was revealed that Brad actually had a delusional vision of the circumstances; Demurra and Draykor were in love and were planning to get married. Although he seems evil and menacing at first, Draykor is kind-hearted and truly loves the princess. After Demurra saves herself from Brad when he tries to kidnap her, she and Draykor are finally wed, although they mention that the relationship will take time and communications like all marriages realistically do.
Apperances
Gallery
v - e - d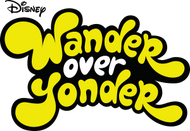 Organizations/Groups
Lord Hater's Army • Insurgent Generals • Wander and Sylvia • Bounty Hunters • Lord Dominator's Army • Galactic Villain Leaderboard
Locations
Lord Hater's Spaceship • Binglebopolopolis • Doomstone • Baaaaa-halla • Phunulon • Ballzeria • Buster • Doom Arena • Planet Ziziks • Flendar • Lord Dominatior's Spaceship • Arachnomorph Homeworld
Ad blocker interference detected!
Wikia is a free-to-use site that makes money from advertising. We have a modified experience for viewers using ad blockers

Wikia is not accessible if you've made further modifications. Remove the custom ad blocker rule(s) and the page will load as expected.