"Have some candy!"
―King Candy's signature phrase
Turbo (better known as King Candy) is the main antagonist of Disney's 2012 animated feature film, Wreck-It Ralph. He was an egotistical racer that ruled Sugar Rush, having gained his power through means of usurpation.
Background
Years before the events of the film, King Candy was originally known as Turbo, a video game character from an old, classic racing game called TurboTime. He was considered an extremely popular racer that loved the attention from players, but when a new racing game called RoadBlasters got plugged in, that game received the lion's share of attention, eventually taking Turbo's spotlight. Out of jealousy, Turbo abandoned his own game and decided to take over the new one, and as a result, he ended up causing both the new racing game and his own to be unplugged for good. His actions were nicknamed "going Turbo", which was something that the video game characters were encouraged not to do (as dying in a game that a character is not native to results in their permanent death, and abandoning their game and trying to take over another is a sure-fire way to get both shut down).
Unknown to all, Turbo somehow escaped his game before it was unplugged, and thus escaped termination. He then remained dormant in Game Central Station for many years. Sometime in 1997, he hijacked a new racing game called Sugar Rush, broke into the game's codes, and turned himself into a being known as King Candy. Candy then made an effort to kill the kingdom's young ruler, Princess Vanellope von Schweetz, by deleting her code in order to steal her throne. His attempt was unsuccessful, and his tampering only resulted in the former princess being transformed into a glitch. Even so, Candy proceeded to lock away all the memories of Princess Vanellope, having the citizens of the game also believe her to be nothing more than a glitch and a threat to the game, turning the people of Sugar Rush against her. With Vanellope dethroned and her status erased from memory, King Candy was free to take over.
Unfortunately for Turbo, there were two flaws in his plot. In the first place, if Vanellope was to cross the finish line in an official race, the game's codes would be restored, hence Turbo's desperation to keep her out of racing. Secondly, her picture was still on the side of the game console, indicating that she is clearly an official character in the game and not a glitch, as Ralph would eventually discover. The second flaw of his plot was something Turbo could do absolutely nothing about. 
Official Description
All hail King Candy, ruler of the race track, captain of confectionery, sovereign of sugar. Not surprisingly, the most powerful figure in the Sugar Rush game is also the best racer on the track. He may look noble enough, but don't be fooled. This mysterious monarch rules his kingdom with a sugary fist and he is determined to keep his kingdom safe from glitches, rabble-rousers, and outsiders. Don't expect him to go easy on Ralph and Vanellope. The King is ably assisted by his strong-arming security donuts, Wynchel and Duncan, and his diminutive henchman Sour Bill, a tiny little ball of un-sweetness.
Personality
"The selfish man is like a mangy dog chasing a cautionary tail."
―Sergeant Calhoun, about Turbo
King Candy is incredibly eccentric and flamboyant. Throughout most of the film, he portrays himself as a bubbly, somewhat strict, yet well-meaning ruler, with a benevolent, grandfatherly aura. Underneath the surface of this façade, however, Candy is corrupt. From his earliest days as Turbo, the racer adored the attention given to him by gamers and the praise that came with being the star of a popular console. With his ego having inflated greatly as a result of this, the racer became demented the moment it was all taken away, and he was determined to remain beloved, even if it meant ruining another game, and eliminating the innocent in the process, and all with no remorse or second thought.
Not only was he shown willing to continuously cause chaos and havoc among the innocent lives of video game characters and the worlds they inhabit, Candy was also shown to take pleasure in the devastation he has caused, signifying signs of an arrogant sadist. This is mostly seen through his treatment towards Vanellope and Ralph during various points of the film. When attacking Ralph as a monstrous Cy-Bug, Candy giggled with unsettling glee in response to his murderous actions. He's also spiteful to a deadly degree, as one of his first methods of overcoming an adversary seems to be murder, evidenced by his attempt to delete Vanellope's code in order overthrow her, and later during his final confrontation with Ralph, whom he had held a grudge against due to Ralph's previous interference with his plot.
Candy also proves to be a meticulous schemer who's incredibly efficient with each plot. With his own force of intelligence, the false king was able to dominate Sugar Rush and remain in power for a total of fifteen years. While deranged and selfish, Candy was also highly professional and diplomatic in terms of ruling Sugar Rush, adding to the façade that he's a selfless, caring leader. By exploiting his noble appearance and charisma, he manipulated those around him into believing his antagonistic actions were for the sole purpose of keeping Sugar Rush "safe". Furthermore, he understood the nature of his enemies; he took advantage of Ralph's humbleness and love for Vanellope by claiming that the latter's life could be at risk should she ever race, thus manipulating Ralph into working alongside him to keep Vanellope out of the race.
He also proved to be a difficult force to defeat, having endured two supposed "deaths" prior to his final demise, and each time he resurfaced, he was more powerful and sinister than his previous incarnation—making him one of the most successful, and dangerous Disney villains of all time. Traits like these ultimately make Candy a virus, what video game characters christen as dangerous threats that can spread, control, and ultimately lead to disastrous consequences within the arcade. This would further apply to the villainous racer upon his usurpation of the Sugar Rush throne, as his motives elevated from a mere lust for fame and attention, to an additional lust for power and control over others. Once he became a powerful Cy-Bug, he realized that he could not only rule Sugar Rush, but any game in the arcade that he wished, and was looking forward to doing so, now that he had the power to do so.
As mentioned above, Candy managed to hide his twisted nature through a jovial, kind-hearted façade. Interestingly, however, hints of his true nature, one that is abusive and cruel, are littered throughout the film, as he is shown to be quick to anger, paranoid, and appears to be mentally unstable as evidenced by his uneasy aura and stressful attitude. Often at times, he was shown to fall into fits of mild to excessive hysteria for seemingly small reasons. Though this would initially appear to simply add comedic fuss to his character, such behavior would later reveal itself to be a result of Candy's own mental insanity.
In the end, Candy can be considered as a sociopath. Beneath the mirage of a pleasant figure and comedic relief lies a corrupt manipulator with a lack of boundaries and thirst for attention and power; willing to achieve these obsessions by any means necessary.
As Turbo
During his time as the main character of TurboTime, Turbo appears to have been an arrogant and conceited character in his own game, even before assuming the role of king of Sugar Rush. Whether or not he was sadistic or disturbed before adopting the persona of King Candy is unknown. The hijacking of RoadBlasters was certainly a symptom of jealousy and spite, but the malicious intent may ultimately have arisen out of fear and a desperate sense of self-preservation, not an innate evil. The reason for his uninviting attitude and craving of destruction is because of his attention-seeking self, which was granted by the arcade gamers giving him the attention.
Physical appearance
Animator Zach Parrish was the supervising animator for the king. The filmmakers wanted to make King Candy a homage to the Mad Hatter from Disney's 1951 film Alice in Wonderland. King Candy is a diminutive elderly man with gray hair tufts and eyebrows. He has fair skin with rosy-pink cheeks and a cartoonishly large, bulbous red nose. As Turbo, he was still short in stature, but had grayish/white skin and gleaming yellow eyes and teeth, giving him a ghostly appearance. Unlike King Candy, Turbo's nose is small and more realistic. Like the other characters of Sugar Rush, Candy had four fingers as opposed to Ralph, who had five.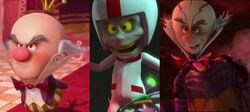 As the regal king, King Candy wore a purple tailcoat with a white vest, covered in glitter, lace collar, and cuffs. There were also two golden buttons on the back of the tailcoat. A notable feature would also be his red bow-tie, which resembled a candy wrapper. He also wore poofy golden pants and purple slippers with red gumdrops at the tip that jingled whenever he moved frantically. The king's most notable feature would be his tiny, golden crown that is usually slanted atop his large head. During the races, the king would don a particular racing outfit that consisted of his prominent outfit, along with brown gloves, a large, golden helmet, which also had a tiny crown on top, and brown racing goggles with red lenses. In most promotional material, King Candy is seen with his miniature candy cane, which was only featured briefly in the film, in a compartment of his kart. As Turbo, the racer wore a white and red jumpsuit and helmet with the letter T on its front.
As a Cy-Bug, King Candy was about 30 feet long, and his face repeatedly transformed from King Candy to Turbo, though Candy was apparently the default face. He had the body structure of a silverfish and a mayfly, could curl into a ball for protection and had a neck that could expand in length. His colors consisted of mostly purple, orange, and pink, and the tip of his claws had a darker tone of purple. He also gained four orange striped legs, and two similarly-colored pincers located on his chest. His head also sported purple markings, which were also seen under his mouth. Candy's crown also changed, now having a spiky appearance and apparently became a permanent part of his body. His hair became feral and unkept, his purple eye shadow grew darker, and his teeth formed into large sharper canines, adding to his menacing Cy-Bug complexion. With his transformation, he gained sugarcoated, hot pink, wings for a flight that can fold in at will. Whenever his Cy-Bug programming occurred, King Candy's eyes turned blue and pixelated while the Turbo persona remained unchanged. Candy also retained his cuffs, lace collar, and red bow-tie with the transformation.
Powers and Abilities
Master Racer: While not possessing any physical power or magical abilities at the start of the film, King Candy was easily known for his superb racing abilities.
Genius Intellect: Aside from racing, Candy was also shown to be highly intelligent and skillfully manipulative.

Expert Hacker: King Candy was capable of manipulating himself and the world around him by turning himself from Turbo to King Candy and by dominating Sugar Rush and making it into his own domain, doing so stealthily so that he would avoid unplugging Sugar Rush as he had done to Roadblasters. This, of course, would be considered messing with the program, something that was forbidden in the arcade universe. Nevertheless, Candy was shown to have the dangerous ability to do so and secretly used it for his own selfish gain.
Expert Manipulator: King Candy was also capable of manipulating people against each-other. He feigned compassion to Ralph, making him believe that the reason he couldn't let Vanellope race was to protect her and his entire kingdom, in order to get him to destroy her cart as well as her dreams.

Computer Virus Physiology: After becoming a deadly Cy-Bug, King Candy gained the ability to assimilate anything he desired into himself. Combining his new form with his intelligence, he could control numerous legions of Cy-Bugs at his command to spread and take over many other games without limiting the Cy-Bug army. With this, he became "the most powerful virus in the arcade" and was capable of dominating any and every game of his choice.

Superhuman Strength: In his new form, King Candy was shown to have an incredible physical strength that overpowered Wreck-It Ralph's tenfold, as he was shown to lift and thrash around the 643-pound bad-guy with great ease.
Flight: Candy also gained the ability to fly, and had great speed and velocity.
Spherical Form: Candy could curl into a ball for speed and protection.
Claws: Candy also had razor sharp claws and legs, which he repeatedly used in attempts to murder Wreck-It Ralph.
Weaknesses
Turbo's only weakness was his own pride. Due to Vanellope becoming a glitch, she was able to cause his own disguise to temporarily fade by coming into contact with her. His power-hungry nature would also contribute to his downfall, as the programming he absorbed from the Cy-Bug that ate him, despite his preserved intelligence, made him victim to the Cy-Bug's basic instincts. Even as Turbo, he was no match for the dominating viral programming that he had willingly embraced, which led to his own death.
Appearances
The King of Candy
"All hail our rightful ruler... King Candy."
―Sour Bill introducing King Candy.
King Candy is first seen at the race track in Sugar Rush, kicking off the daily Random Roster Race (the race that determines which nine racers will be featured on the game's roster for the day) as the Master of Ceremonies. After explaining the rules and regulations, Candy and the other racers begin depositing their coins, which act as their entry fees into the race. Once they've all entered, the king notices a mysterious, hooded figure depositing a coin, and suspiciously eyes them to discover their identify; the figure is soon revealed to be Vanellope. The crowd goes into panic at the sight of the glitch, and while trying to keep his composure, Candy furiously orders his doughnut security guards, Wynchel and Duncan, to restrain her. Vanellope immediately flees and attempts to escape in her makeshift kart. Unfortunately, a giant, taffy-covered "monster" arrives on the raceway and confronts the glitch, causing mayhem and destruction in the process; all the while, Candy watches the whole spectacle and tries to both calm the panicking crowd down and demand the creature to stop his rampage, but to no avail. Eventually, the taffy monster ends up trapped in a giant cupcake, preventing him from movement, and allowing Vanellope to escape without effort.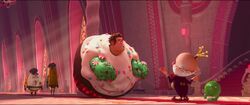 An exasperated King Candy watches as she does, telling Sour Bill she mustn't be allowed to race. He then orders Wynchel and Duncan to bring the captured taffy monster to his castle to receive punishment, which they oblige to. The "monster" reveals to be Wreck-It Ralph, the villain from the game Fix-It Felix, Jr.. Ralph explains that the "coin" Vanellope has inserted is actually his gold medal, and that he will leave Sugar Rush as soon as he gets it back. The King, however, tells Ralph that the medal has been inserted into the game's codes and can only be returned when someone wins the cup at the end of the race and earns it back. Ralph then openly plans to steal the medal back when it's won, angering the King. Losing his patience, King Candy orders Wynchel and Duncan to escort Ralph out of Sugar Rush and heads out to find and capture Vanellope.
Messing with the Program
"Oh, the code... It's the sweet lifeblood of the game."
―King Candy to Sour Bill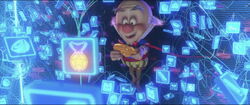 Ralph manages to escape the guards and eventually comes across Vanellope. Vanellope quickly develops a scheme to have Ralph break her into King Candy's kart factory, where she will be able to build a real kart, subsequently win the race, and earn back his medal. Ralph reluctantly agrees. King Candy is later alerted by the security of the factory's break-in and ambushes the area with Wynchel, Duncan, and a team of elite henchmen prepared to make an arrest. Unfortunately for the king, Ralph and Vanellope escape, with the kart fully intact. An infuriated King Candy orders Wynchel and Duncan to find Vanellope and destroy her kart, while he returns to the castle. Later, the king fearfully paces back and forth in his throne room, with Sour Bill trying to calm his ruler's nerves by fanning him. When Wynchel and Duncan arrive to give a status report, it is learned that their efforts were futile. With no other choice, King Candy and Sour Bill violate the arcade's bylaws by heading to the lowest part of the castle, where they use a secret password to enter the game's code room. Within the forbidden realm, King Candy is able to obtain Ralph's medal, and heads out, alone, to find him, placing Sour Bill in charge during his absence.
Candy's Meeting with Ralph
"I'm not against her, I'm trying to protect her!"
―King Candy to Ralph, about Vanellope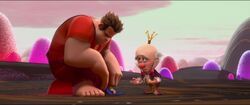 Eventually, Candy finds Ralph near Diet Cola Mountain, though the bad-guy is less than pleased to see him. Candy reveals to have uncovered Ralph's medal and gladly returns it to him, claiming he only wants to be given a chance to explain his reasoning for Vanellope's treatment, in return. As Ralph listens intently, King Candy explains that Vanellope's glitching during a race would likely have the players believe the game was broken, putting the cabinet in danger of being permanently unplugged. While most of the citizens would be able to escape simultaneous termination, Vanellope would be trapped and die alongside the cabinet, as glitches are unable to leave their games. King Candy then asks Ralph to somehow keep Vanellope out of the race for her own safety; unwilling to take the risk, Ralph agrees, allowing the king to take his leave. After his departure, as according to plan, Ralph ensures Vanellope keeps away from the race by destroying her kart.
The Truth Behind Sugar Rush
"What's going on in this candy coated heart of darkness?!"
―Ralph to Sour Bill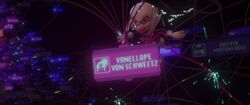 Afterward, Ralph leaves Sugar Rush and returns to his own game. At some point after Ralph's departure, King Candy captures Vanellope and sends her to the fungeon, locking her up in "glitch proof" chains. Back in the Fix-It Felix, Jr. cabinet, Ralph is able to spot the Sugar Rush console, and notices a picture of Vanellope being prominently displayed along the side, despite being a character that was "never meant to exist". Suspicious, Ralph returns to Sugar Rush and interrogates Sour Bill into revealing that Vanellope was once an actual racer until King Candy tried to delete her code, turning her into a glitch. The motives behind such deeds remain unknown, however, as Candy locked away the memories of the game's inhabitants, including Sour Bill's. However, Bill explains that the king's tampering can be undone: should Vanellope cross the finish line in an official race, the game will reset, and she will no longer be a glitch.
A Secret is Revealed
"I'm Turbo, the greatest racer ever!"
―Turbo revealing himself
Meanwhile, the daily Random Roster Race has begun, and Vanellope is considered a no-show, much to the king's delight. As the race begins, Ralph breaks Vanellope out of the fungeon and asks his friend Fix-It Felix, Jr. (who was trapped in the fungeon by Sour Bill) to repair her kart, thus allowing her to enter the race. A little while after she does so, she quickly makes it to second place, only behind a still oblivious King Candy. Meanwhile, back at the finish line, a swarm of Cy-Bugs, originating from the game Hero's Duty, invade Sugar Rush and immediately begin ravaging through the kingdom. While the citizens of the game begin to evacuate, the crisis remains unbeknown to King Candy and Vanellope, who continue on with the race. Soon enough, when nearing the finish line, Vanellope manages to pass King Candy (teasingly smirking at him in the process), much to the latter's shock.
Using one of the track's secret routes, King Candy ambushes Vanellope and viciously tries to ram her off the track. With his patience wearing thin, Candy grabs his kart's antenna and brutally tries to beat Vanellope with it, destroying portions of her kart in the process. Vanellope grabs hold of the other end of the antenna in an attempt to disarm him, resulting in a brief, yet vehement, tug-of-war between her and Candy, until direct contact with the girl's glitchiness suddenly (though briefly) reveals King Candy for who he really is: Turbo; a revelation much to the surprise of both Ralph and Felix, who witnessed the whole thing from the monitor. With his secret revealed, Turbo confesses his crime of reprogramming the world to Vanellope, and vows that he won't let her, Ralph, or anyone else take it back from him. Turbo then tries to kill Vanellope by ramming her into an oncoming stalagmite, but the young girl is able to finally control her glitchy abilities and saves herself by glitching out of Turbo's grasp. Turbo attempts to chase Vanellope down, but the original Cy-Bug that spawned the invasion blocks his path and devours him alive.
The Boss Level
"Because of you Ralph, I'm now the most powerful virus in the arcade!"
―King Candy reveling in his abominable new form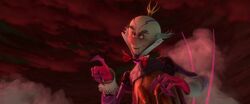 Cy-Bugs are programmed to become what they eat, however, allowing Turbo to survive by fusing with the monster, becoming a deadly, towering creature (depicting both his King Candy and Turbo personas) with supremacy over the ever-growing Cy-Bug legion. Meanwhile, the Cy-Bugs have multiplied and ravaged through the entire world of Sugar Rush, turning it into an apocalyptic wasteland with seemingly no chance of survival. Fortunately for the heroes, Ralph initiates a plan to use the Diet Cola Mountain volcano to create a beacon of lava that will attract the bugs to their destruction. Before he can complete his mission, Turbo, in his newfound Cy-Bug form, arrives and prevents him from doing so. Turbo proclaims himself to be the most powerful virus in the arcade, with a new goal to take over the arcade. Before setting his plot in motion, however, Turbo spitefully attacks Ralph in attempts to kill him, though the bad-guy is more preoccupied with trying to set off the volcano. Eventually, Turbo gets the upper hand and flies Ralph into the air for further torture. At the excessive height, the two are able to witness Vanellope in the distance, being cornered and marked for death by a swarm of Cy-Bugs. Turbo sadistically forces Ralph to watch helplessly as the horrific scene nearly takes place.
Game Over
"Go into the ligh—AH!!"
―Turbo's final words.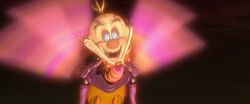 Giddy at the thought of his two enemies nearing their demise, Turbo declares it's "game over" for both Ralph and Vanellope, but the former retorts by breaking free of Turbo's grasp and plummeting towards the mountain; the impact of Ralph's fall successfully breaks the mountain's Mentos surface; bringing down the entire crater, thus causing an eruption that produces a bright beacon. As the lava towers over the kingdom, the Cy-Bugs immediately begin to mindlessly fly into the light and are vaporized upon contact. Turbo, being more powerful than the others, is initially unaffected by the sight of the beacon, instead focusing his attention on trying to pull back his deflating army. Soon enough, however, Turbo becomes mesmerized, as well, and makes a panicked attempt to overcome it while alternating from his mesmerized Candy persona, and conscious Turbo persona. Unfortunately for Turbo, his Cy-Bug programming eventually overwhelms him, and he flies into the light as well, to his death. As characters who die outside their own games are unable to regenerate, he is ultimately gone for good.
Following Turbo's death, Vanellope safely makes it across the finish line, thus finishing the race and resetting the game. This restores Vanellope's code and position as sovereign, while King Candy's hold over the citizens' memories is obliterated, freeing them from their binds.
Printed media
Junior novelization
In the junior novelization for Wreck-It Ralph, King Candy's actions during the climax were slightly different. After Vanellope escaped Candy's clutches following the Turbo reveal, the King escaped the tunnel, unharmed, and witnessed the Cy-Bug invasion with his own eyes as he drove out and towards the finish line, pursuing Vanellope. Furious at the sight of "his" game in ruins, Candy began to rant, swearing revenge on Ralph for the destruction he's caused. His cries were cut off, however, when a Cy-Bug swooped down and grabbed the King in his pincers, carrying him into the air before devouring him.
After the final battle with Ralph and Diet Cola Mountain was erupted, Cy-Bug King Candy would grab onto a candy cane tree branch, frantically trying to prevent his oncoming destruction. However, the branch he grabbed was a double-stripe, which are known to dissolve into oblivion upon physical contact, resulting in King Candy losing his only chance of survival (echoing Vanellope's comments on the matter during her introduction in the film), flying into the lava and to his death.
Video games
King Candy, in his Cy-Bug form, appears as a silent, non-playable character in the game, first appearing as part of the Sugar Rush-themed circuit in the Toy Box Speedway. He is first seen hovering over the tracks during the race's second lap, and again for the remaining laps, on ground level.
King Candy can additionally be unlocked for the Toy Box, to appear as a decorative, animated set piece.[1] He is unlocked after receiving a required amount of tokens in the Sugar Rush circuit of the Toy Box Speedway.
King Candy appears as an unlockable playable character in the 'Rare' class. He sometimes throws candy when he walks. Turbo appears in the 'Enchanted' class, while Cy-Bug King Candy appears in the 'Rare' class, as well.
In the 2015 rendition of World of Color in Disney California Adventure, King Candy (as a Cy-Bug) appears during the montage celebrating villains.
During Epcot's Food & Wine Festival of 2017, a figurine of King Candy was featured in a chocolate diorama display based on Wreck-It Ralph.
King Candy's likeness is also featured aboard the Disney Dream cruise ship, as part of the Sugar Rush-themed area, "Vanellope's Sweet Treats", in the form of a statue, among others. A dessert treat served at the cabana is also named after him.
Relationships
Gallery
Trivia
King Candy bears a striking resemblance to the Mad Hatter from Alice in Wonderland. Animator Zach Parrish even noted that the overall design of King Candy was based on the Hatter.

The Hatter's original voice actor, Ed Wynn, was also used as a reference for the king, specifically by Candy's voice actor, Alan Tudyk.

While not having a villainous musical number, King Candy has a recurring theme that plays during most of his scenes, including his final moments in the climax.

On a similar note, director Rich Moore stated that King Candy was actually meant to have a musical number in the film that explained how disputes were settled in the realm of Sugar Rush. It was written by Bobby and Kristen Anderson-Lopez and was to be in the style of the Sherman Brothers' music.[2]

The TurboTime arcade cabinet looks like that of the Namco arcade game Rally X. Turbo also seems to be based on the artwork on the side.
King Candy's kart originally belonged to Vanellope, as she is seen driving it on the Sugar Rush cabinet's artwork.
His kart's honk in the throne room is the U.S. Presidential Anthem, "Hail to the Chief."
A poster of Turbo is seen on the subway wall in the entrance to Sugar Rush.
Some graffiti art of a crown with the initials K.C. below it can be seen on the subway wall when Ralph and the villains exit Pac-Man.
When King Candy heads to Sugar Rush's codes, he uses the Konami Code as a password to enter the realm in which the codes lie.

The Konami Code is written on a napkin from Tapper's.

The character of King Candy has gained critical acclaim from both critics and fans, praising the character's writing, voice work, and the nod to Ed Wynn, making him one of the most popular Disney villains of all time.
One of the mural illustrations inside the Fungeon shows a clown in a race car showing a face similar to that of Turbo's.
Turbo, in a sense, is essentially the complete opposite of Ralph: while Ralph is programmed to be a villain in his own game, but is kind-natured, cares for his friends and family, and becomes the hero of this film, Turbo, on the other hand, despite being programmed to be the hero of his former game, is actually arrogant, mean-spirited, and becomes the main antagonist. In fact, Turbo is actually even a brief glimpse of the type of person Ralph would've become had he become too obsessed with getting what he wanted instead of doing the right thing (thus becoming a "true" villain). This is a very rare reversal of traditional character roles that occurs in Disney films.
While most video game characters, upon leaving their own game and entering another, had to change their appearance so that they would resemble their destination game's art style upon entering (for example, 8-bit characters like Ralph and Felix would become CG-rendered if they enter a modern video game, and vice versa for modern characters like Calhoun if they enter an older one), Turbo does not: upon arriving in RoadBlasters, he simply remains 8-bit causing various sprites of himself to appear all over that game and therefore causing it to crash.
He seems to represent the deadly sin of envy, as his jealousy of RoadBlasters lead to it and TurboTime being unplugged, and pride, in the fact he was afraid that his seat of authority would be taken by Ralph.
King Candy is quite deductive, as when Ralph explained that his medal was stolen, he immediately realized that Ralph's medal was what Vanellope used as a coin to enter the race.

He also used this information to convince Ralph into destroying Vanellope's kart by giving him his medal back.

When Fix-It Felix explains Turbo's backstory, Turbo's game, TurboTime, was right next to Ralph's and Felix's game, Fix-It Felix, Jr. this could mean that the two game characters knew each other before the events of the film.
There are some, though unnoticeable, hints that King Candy truly is Turbo:

For example, when he learns that Ralph has game-jumped, he begins to overreact and accuses Ralph of "going Turbo" and attempting to take over his game.
He has access and knowledge of Sugar Rush's code and used it to get the medal even though he claimed no one could regain the medal, making his true motives questionable.
He is a powerful racer with great intolerance to losing.
In Felix's flashback, Turbo's voice sounded like King Candy's.
He bares little to no resemblance to the other racers' anime style (looking more like an American 1940s cartoon character), hinting he is not truly from Sugar Rush.
He was the only character in the entire game who recognized Wreck-It Ralph, since TurboTime was next to the Fix-It Felix, Jr. cabinet and from the same time period as Fix-It Felix, Jr.
King Candy's data box is noticeably larger than the other data boxes in the CPU room. It's also noticeably redder in color (all others are blue) and all of his data files are completely disorganized. Also, if you look very closely, you can even see little Turbo faces inside.
Just before he lies to Ralph about Vanellope and her game causing Ralph to destroy her go-kart, King Candy can be seen panicking as Ralph tries to attack him, not out of cowardice, but rather because he is actually aware that he is not supposed to be in that game. Since characters that die outside their game ultimately die permanently, had Ralph successfully got him that time he would've been killed not only instantly, but also permanently as well.

Early on in the film's development, King Candy was a separate character from the character of Turbo. He was still, however, an antagonist and the usurper of Vanellope's throne. It wasn't until later on during the course of production that the filmmakers decided to have King Candy and Turbo become one character.[3]
King Candy was initially intended to reform by the end of the film before the filmmakers decided to have him remain a villain throughout the entire course of the story.[3]
Even after his identity is revealed, the credits, closed captions, and even fans of the film still refer to Turbo as King Candy, possibly due to the amount of time he spent in the film in his King Candy persona.
Though there are some fans who have theorized that King Candy could have been a legitimate character in Sugar Rush before Turbo took over, Raymond S. Persi has officially stated on his Tumblr blog that the King Candy character was an identity fabricated by Turbo.[4][5]
Ironically, King Candy's line when he speaks to Ralph about Vanellope ("Heroes have to make the tough choices, don't they?") indirectly foreshadowed Ralph's tough choice in sacrificing himself to save the arcade at the film's climax.
During the scene where King Candy reveals himself to be Turbo, if one pauses the movie at the right time, they will find a split second frame of Turbo looking at the camera, smiling while giving a thumbs-up.
In the Mickey Mouse episode "Bad Ear Day", a sign with King Candy's name can be seen on one of the buildings.
King Candy was mentioned in the television series, Psych, in the episode, "S.E.I.Z.E. the Day".
Alan Tudyk once stated that King Candy was amongst his darkest roles.[6]
Interestingly, King Candy is the first character to be associated with two significant tropes that would consecutively go on to appear in the Walt Disney Animation Studios features following Wreck-It Ralph: Frozen, Big Hero 6, Zootopia, and Moana.

Each film has included a role voiced by Alan Tudyk (this was a direct result on his garnered acclaim as King Candy).
Each film had their respective main villains involved in a major plot twist.
References