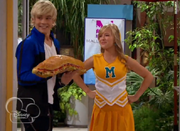 Kimmy is a recruiting character in Season 2 of Austin & Ally, who has appeared in "Freaky Friends & Fan Fiction" as well as "Sports & Sprains". Her last appearance is in "Sports and Sprains". She is Portrayed by Cassidy Ann Shaffer.
Physical Appearance
Kimmy has a blonde hair that she wears in two pigtails. Judging her appearance in "Freaky Friends & Fan Fiction", she wears a cheerleading outfit for the Cheerleading Squad of Marino High School.
Ad blocker interference detected!
Wikia is a free-to-use site that makes money from advertising. We have a modified experience for viewers using ad blockers

Wikia is not accessible if you've made further modifications. Remove the custom ad blocker rule(s) and the page will load as expected.