Ad blocker interference detected!
Wikia is a free-to-use site that makes money from advertising. We have a modified experience for viewers using ad blockers

Wikia is not accessible if you've made further modifications. Remove the custom ad blocker rule(s) and the page will load as expected.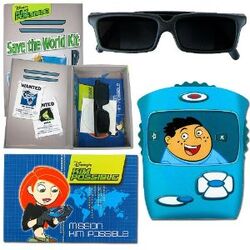 Disney's Kim Possible Top Secret Spy Kit is a toy made by Trademark Global.
Description
Call her, beep her, if you want to reach her. Or you can just handle the crisis on your own with the Disney's Kim Possible Save the World Spy Kit. This kit contains everything you will need to help Kim save the world. You will receive a book of coded messages, a Kimmunicator decoder to crack the messages (or write your own), spy sunglasses that will allow you to see what is behind you, and a way-cool, iron-on patch featuring Rufus.
Kit Includes:
Book of coded messages
Kimmunicator decoder to crack the messages
Spy sunglasses that will allow you to see what is behind you
Iron-on patch featuring Rufus
Convenient carrying case to hold your kit
Product Details