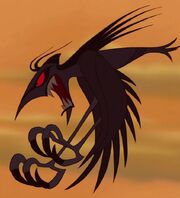 Kill
was a giant bird with human face sent by
Hades
to kill
Hercules
. It was one of the infamous [[Wikipedia:Stymphalian birds|Stymphalian Birds].
Appearances
Kill was briefly seen, during the "Zero to Hero" montage, charging the Hercules and Pegasus duo from the upper sky, and was captured soon (possibly) after in a large cage.
In the animated series, another pair of Stymphalian Birds were used by Pain and Panic to cause Hercules to lose control of Apollo's Sun-pulling cart. These birds can breathe fire fierce enough to cut the divine chains of Apollo's cart.
Trivia
In Once Upon a Time, the Stymphalian Birds don't appear. However, one of Hercules' twelve medals represent the monsters.
In the original myth, destroying the Stymphalian Birds was Hercules' sixth labor.