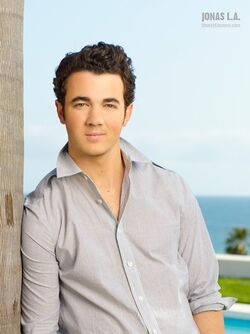 This article is missing information. The movie, show, or short this character is from is NOT listed.
Kevin Lucas is the oldest of the Lucas brothers, and also appears to be the most naive. He is often seen getting hurt along with his brothers, when they're around Macy. His voice gets high-pitched when he lies to anyone, especially if the truth hurts someone else's feelings. In the second season, he is more focused on directing than the band.
Relationships
Maria 
He had a short lived crush on Maria, the pizza girl, and competed to impress her with his brothers.
Macy Misa 
Kevin and Macy appear to develop a friendship throughout the first season, as he appears to be the closest with Macy out of the brothers. When the brothers are trapped in the store in Keeping it Real, he answers questions for her fansite, even though the others don't, he is also the first of the brothers to run out after her, when she is left outside woth the crazy fans. Also, when Macy sings in Chasing the Dream, Kevin doesn't want to hurt her feelings, so tells her she has a beautiful singing voice. At the end of the episode, Kevin finds a place for her to sing where no-one can hear her, and watches her as she does so. In The Three Musketeers when Macy loses her lucky charm, Kevin gives her his lucky boot, as he feels sorry for her. In Exam Jam, Macy films him with his guitars multiple times.
Anya/Kimmie
In Cold Shoulder, Kevin's Scandinavian girlfriend, Anya comes to visit, and the pair get along well, sharing gifts, and jokes, with Kevin singing how he left his heart in Scandinavia, as Kevin says that she is the first girl that has really understood him. Anya invites him to a school dance, however other people don't understand them, and laugh at her, and she dumps him, saying he needs a "wonderful American girlfriend". Stella gives Anya some fashion advice, but turns her into a Paris-Hilton-alike called Kimmie, and Kevin no longer wants to date her.
Samantha 
The new French exchange student who stayed with Stella, and who Kevin had a crush on. She is only seen in "Cold Shoulder". Samantha is the president of JONAS' French fan club. She's also into miming.