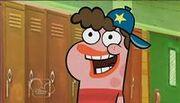 Kevin
is a fish who goes to
Freshwater High
, but was held back a grade. He appears in the show
Fish Hooks
.
Role in the Series
Kevin came out of nowhere after Milo thought when he'll get held back, he'll still have his friends. Milo, Oscar, and Bea didn't know who he was. Kevin claims he has gone to all the adventures with Milo, Bea, and Oscar, but since he got held back a grade, no one ever recognizes or sees him, which made Milo realize he has to study to not lose all his friends. Milo, Oscar, and Bea still forgot who he was and he swam away crying ("Fail Fish").
Background Information
Even though he claims he was held back, the adventures he went on with Bea, Oscar and Milo happened in Mr. Baldwin's class.
He is more likely in the 9th grade since he is claimed to be held back.
Appearances
"Fail Fish" (First appearance)
"Dollars and Fish" (Non-speaking cameo)
"Parasite Fright" (Non-speaking cameo)
"Good Morning, Freshwater" (Non-speaking cameo)
"Run, Oscar, Run" (Non-speaking cameo)
"Merry Fishmas, Milo" (Non-speaking cameo)