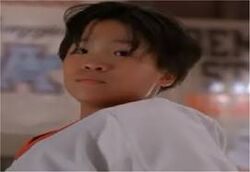 Ken Wu
is currently is a hockey player and plays at the Forward Position, and wears number 16. He is a former Olympic figure skater who dazzles opponents with his acrobatic, stylistic techniques and sets up scoring opportunities. Ken first appears in
D2: The Mighty Ducks
as part of the
Team USA (Junior Goodwill Games)
team. In the first match-up against
Iceland
, he attempts to use one of his figure skating moves to get the puck into the goal but is brutally knocked down by the bigger players, thus making Coach Bombay irritated by the lack of effort Ken made. After taking what he has learned from
Russ Tyler's
LA Street Hockey Team and standing up against an Iceland team member twice his size, Ken became dubbed by
Fulton
and
Portman
as "Little Bash Brother". He later attended
Eden Hall Academy
, as seen in
D3: The Mighty Ducks
. Ken was picked on by the varsity team, who stole his lunch every day and distributed the contents of it amongst themselves. Later in the film, he begs Russ to teach him the tricks of talking smack to other team members but fails miserably when he delivers ones that are too long. He is portrayed by Justin Wong.
Ad blocker interference detected!
Wikia is a free-to-use site that makes money from advertising. We have a modified experience for viewers using ad blockers

Wikia is not accessible if you've made further modifications. Remove the custom ad blocker rule(s) and the page will load as expected.