Keiko Toda (b. September 12, 1957) is A Japanese voice actress whom she is known for the Japanese dub of Sally Carrera in Cars & Cars 2, Bo Peep in Toy Story & Toy Story 2 And as well as Osono in Kiki's Delivery Service.
She also appeared in live action films such as Welcome Back, Mr. McDonald, Nin x Nin and A Ghost of A Chance and as well as her best known role, in which she has since 1988, Anpanman.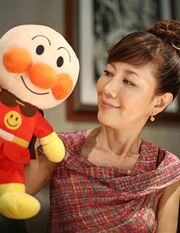 Ad blocker interference detected!
Wikia is a free-to-use site that makes money from advertising. We have a modified experience for viewers using ad blockers

Wikia is not accessible if you've made further modifications. Remove the custom ad blocker rule(s) and the page will load as expected.