Keiko Toda (b. September 12, 1957) is A Japanese voice actress whom she is known for the Japanese dub of Sally Carrera in Cars & Cars 2, Bo Peep in Toy Story & Toy Story 2 as well as Osono in Kiki's Delivery Service.
She also appeared in live action films such as Welcome Back, Mr. McDonald, Nin x Nin and A Ghost of A Chance and as well as her best known role, in which she has since 1988, Anpanman. She was the former voice of Thomas the Tank Engine.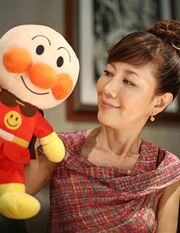 Ad blocker interference detected!
Wikia is a free-to-use site that makes money from advertising. We have a modified experience for viewers using ad blockers

Wikia is not accessible if you've made further modifications. Remove the custom ad blocker rule(s) and the page will load as expected.