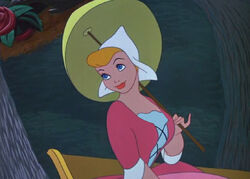 "Katrina" is a short song performed by Bing Crosby in The Legend of Sleepy Hollow.
Lyrics
Oo oo oo oo
Ah ah ah ah ah ah ah
Once you have met that little coquette Katrina
You won't forget Katrina
But nobody yet has ever upset Katrina
That cute coquette Katrina
You can do more with Margaret or Helena
Or Ann or Angelina
But Katrina will kiss and run
To her a romance is fun
With always another one to start
And then when you've met that little coquette Katrina
You've lost your heart
Trivia
"Katrina" was sung by Bing Crosby.
In the short you can hear the orchestra play the melody of this song whenever Katrina enters the scene.
Ad blocker interference detected!
Wikia is a free-to-use site that makes money from advertising. We have a modified experience for viewers using ad blockers

Wikia is not accessible if you've made further modifications. Remove the custom ad blocker rule(s) and the page will load as expected.