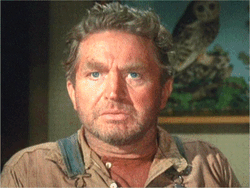 Karl Swenson (July 23, 1908 – October 8, 1978) was an American theatre, radio, film, and television actor.
His Disney roles included Merlin in The Sword in the Stone, Laredo Marshal in the Walt Disney Presents episode "Texas John Slaughter: Ambush in Laredo" and Jensen in the Wonderful World of Disney episode "Wild Country", in Little House on the Prairie as Lars Hanson.
Ad blocker interference detected!
Wikia is a free-to-use site that makes money from advertising. We have a modified experience for viewers using ad blockers

Wikia is not accessible if you've made further modifications. Remove the custom ad blocker rule(s) and the page will load as expected.