Ad blocker interference detected!
Wikia is a free-to-use site that makes money from advertising. We have a modified experience for viewers using ad blockers

Wikia is not accessible if you've made further modifications. Remove the custom ad blocker rule(s) and the page will load as expected.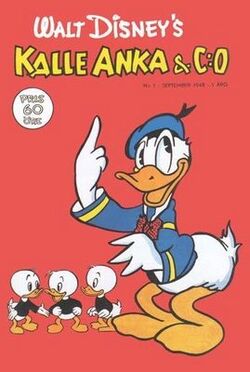 Kalle Anka & C:o (Swedish for Donald Duck & Co) is a Swedish weekly Disney comics magazine published by Egmont, and the overall best-selling Swedish comic magazine. The magazine had a circulation of 225,000 in 1990 and 65,300 in 2010.
The first issue was published in September 1948. Until 1957, the magazine was published monthly, between 1957 and 1959 biweekly, and since 1959, once a week., 2,918 issues have been published.
The first issue, Kalle Anka & C:o 1/1948, is Sweden's most valuable comic book according to Seriesamlarna, with an estimated value of 250,000 SEK. In 1999, a copy was sold for 170,000 SEK.
See also
External links
| | |
| --- | --- |
| | This page uses content from the English Wikipedia. The article or pieces of the original article was at Kalle Anka & C:o. The list of authors can be seen in the page history. As with Disney Wiki, the text of Wikipedia is available under the GNU Free Documentation License. |