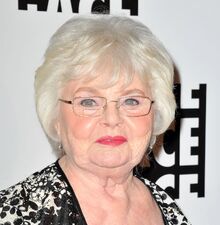 June Louise Squibb (born November 6, 1929) is an American actress. She has played supporting roles in various films such as Alice, Scent of a Woman, The Age of Innocence, In & Out, and Far from Heaven. She voiced Stella Starbella in Wander Over Yonder and played Grandma in the CBS/ABC Studios TV show Ghost Whisperer, Jamie Isaccson in the ABC TV show Castle, Velma Mudge in the ABC Studios TV show Devious Maids, Dr. Elsie Clatch in Grey's anatomy and Dorothy in the CBS/ABC Studios TV show Code Black. 
Ad blocker interference detected!
Wikia is a free-to-use site that makes money from advertising. We have a modified experience for viewers using ad blockers

Wikia is not accessible if you've made further modifications. Remove the custom ad blocker rule(s) and the page will load as expected.